Post Hurricane Ian Fishing is Good!
Capt. Jim Hobales
October 14, 2022
Flamingo - Saltwater Fishing Report

The last couple of weeks the fishing has been very good! I have fished all of Biscayne Bay from north end all the way south into Key Largo. The baits have been pushing thru with plenty of bigger fish chasing them. The Tarpon put on a great show during the Mullet run skyrocketing in the massive schools.
The Pilchards have been easy to catch and that's when we go look for Mutton Snappers. I fished with friend and fellow guide Alan Sherman and really had a great day of inshore Muttons and Snook.
I have also fished Flamingo since the Hurricane passed just offshore of Cape Sable. There's some bait on the coast But the Berkley Gulp swimming mullet work just as good. I had a good day with my good friends Wayne Mckinney and Rick Toste at Flamingo We hooked Snook, Redfish, Tarpon, Tripletail, and lost a giant Trout lifting it into the boat.
I also got a little Peacock Bass fishing with my son out at Holiday Park, he's got it down pretty good. It's nice to be the guy on front of boat.
If any of these scenarios gets your blood pumping and makes you want to fish give me a call at
305 333 8149. Caught Lookin Charters is a family friendly charter so its ok to bring wife and kids.
Let's go Catch'em
Capt. Jim Hobales
Follow on instagram @ Caught Lookin Charters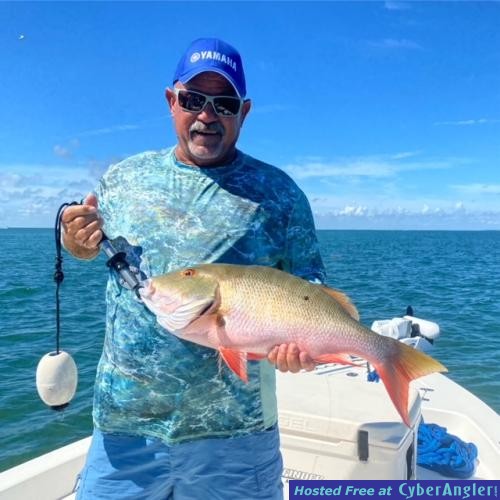 More Fishing Reports: