Warmer temps produce good action!
Capt. Jim Hobales
January 28, 2023
Flamingo - Saltwater Fishing Report

January 28, 2023
Warmer temps produced good action.
I spent a few days fishing offshore and the patch reefs in Key Largo last week. I along with everyone else were trolling for Wahoo on the New Moon. We did have a Tuna eat but got off. We set up on the reef and chummed for all the good eating fish. We caught plenty of Yellowtails, undersized Groupers, Grunts, Triggerfish and Mackerel. We had a monster Kingfish eat one our live baits skyrocket and cut us off. The fun part of these days was watching the Sailfish chase the Ballyhoo.
I fished there for a couple days and then fished Flamingo with Matt, Bill and Dennis from Massachusetts. It was cool in the morning; I think that spark a great Trout bite. It was interesting because we caught the Trout by casting at Tarpon. The Tarpon weren't interested! We also caught some Snook and by 8:30 we had a bunch of fish in the boat. Giant Ladyfish and Jacks also took part in the party. This was all on a falling new moon tide. We fished the edges of the islands and flats until we ran out of water and fish. I headed out west to the Gulf of Mexico right about the time the wind picked up to 25mph. There really asnt much water anywhere but we ducked into a creek and found a bunch more Trout. The first thing they said to me when they got on the boat was, we want lots of fish.
Up until now we were good but I wanted something big! I had been keeping all the 1 lb. Jacks all day for my Goliath Grouper Pets. I rigged a bait and showed Dennis where to cast. He had to do it couple times but got the bite I was waiting for. I knew it was a good one but the Goliath got into mangroves. I told him no pressure on him and he will come out and he did after a few minutes. It was a tug of war on a 12lb Biscayne rod, but Dennis kept up the pressure and got it out in open. The Goliath Grouper is the strongest fish in the mangroves. Got a few pics and moved on. It was Bills turn at another spot. It took a few minutes, but he got a smaller one. I had a live well full of jumbo shrimp and never used them today. Today was all artificial, Berkeley Gulp swimming Mullet killed them. Matt was a very good fly angler and caught a bunch of Snook especially the one in a dead tree while we just pulled out from there. That was impressive!
The fishing is good and going to get better every day it warms up. The giant Tarpon are in place and will be back in the back country this week when it warms up. Thats where I will be its some of the best Tarpon fishing there is. i know everyone don't want to spend all day waiting on a Tarpon to eat that's why we have Snook, Redfish, Trout and a bunch of other species for fun. Caught Lookin Charters specializes in family fun so bring the kids. If anything I wrote makes you want to go fishing give me a call at 305 333 8149.
Let's go Catchem
Capt. Jim Hobales
Instagram @ Caugh lookin Charters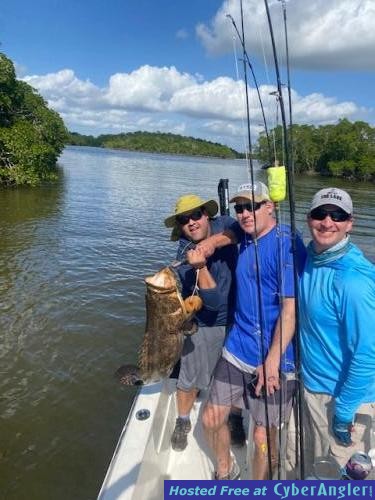 More Fishing Reports: