Whitewater Bay Gold
Capt. Benny Blanco
December 10, 2008
Flamingo - Saltwater Fishing Report

From the Crocodile Dragover to Lostman's River... I pushed the limits of my Maverick HPX-T once again. In four trips, we covered over 260 miles of Everglades scenery and fished water depths from five inches to over eight feet. We witnessed tailing Redfish, backing Tarpon and schooling Snook... and covered the spectrum of artificial baits from fly to lead. The end result... four happy fisherman who will not soon forget the day they visited Everglades National Park.
The highlight this week was a day in the back country with Ralph James, a fly fishing pro from the Texas Coast. A Maverick owner himself, he felt right at home on the bow and wasted no time putting fish in the boat. His homemade white rivet fly fastened to the end of a Tibor/Loomis 8wt combo was the deadly ticket all day long. Having never caught a Tarpon on fly, he was treated at the first stop, which produced several freshwater Tarpon ranging from 5 lbs to 25 lbs and a few under slot Snook. With his wish fulfilled, we moved on into the black waters of Hell's Bay, where we found tailing and sunning Redfish that eagerly ate the rivet like they hadn't eaten in weeks. Later, and slightly further North, we found schooling Snook... after going through eleven flies and numerous tippet repairs on what seemed like dozens of lower & sub slot Snook, Ralph ended his day with a personal best 30 incher that tested every bit of his angling skill.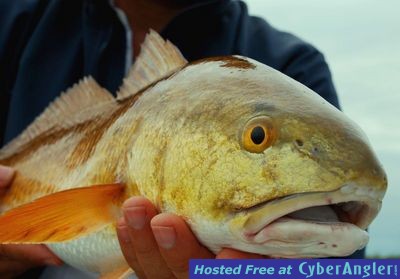 A special thanks to Carlos, Ralph, Bill & Buck!... I hope to spend another day on the water with you soon.

Flamingo Fishing Forecast:

There are good numbers of fish both on the Florida Bay flats and in the back waters of Whitewater Bay... it's not hot and the bugs are nearly non-existent. Call a Cyberangler Guide and book your trip today!
Target Species:

Snook, Redfish, Tarpon, Trout & Black Drum
More Fishing Reports: