Blind Angler Catches 300 Pound, 12ft Long Thresher Shark
Capt. Paul Roydhouse
March 20, 2017
Fort Lauderdale - Saltwater Fishing Report


We had Josh out this morning on our sportfishing charter out of Fort Lauderdale. He lost his sight when he was young but he still loves to fish. He's fished all over, including Alaska, but he said that today was his best fishing trip of his life. Today, he went out with Mick and Adam on a sportfishing charter with the hopes of catching something big. This is shark season in Fort Lauderdale where some of the largest game sharks of the year come through out waters. They swim mostly in 300-400ft of water which is only about 2 miles off our coastline. We get a variety of sharks that come through and pausing off our coastline to feed on all the kingfish and bonitos we have in our waters.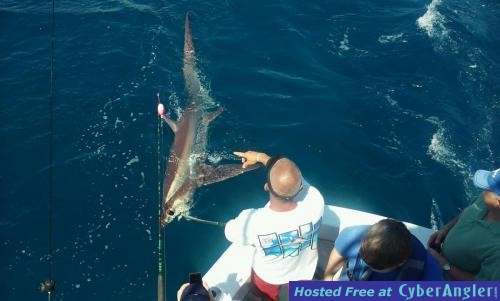 On this charter, we went out to shark fishing territory and we set out baits... 2 in the kites and 2 on the bottom, all baited with large bonitos as bait. Bonitos are very bloody fish so they make awesome shark baits. We sat there fishing for a good 45 minutes without a bite. Just when we started to think we weren't going to get a bite, the deep bait rod bends over hard and starts screaming line. Mick rushed over to rod and got the hook set into the fish and we strapped Josh into the fighting chair, connected to the big fish. Josh was a trooper and he fought the fish all the way up, Mick coaching him the whole way.
After a grueling 40 minute fight, we got the fish up to the boat and could see what it was. It was a 12ft long thresher shark, one of the rarest game shark species we have off our coast. Few professional fishermen have ever caught them, that's how rare they are. Since Josh couldn't see the fish, Mick explained to him in great detail what the shark looked like. He held him next to the boat so he could hear the fish thrashing on the surface and feel the skin of the shark. The skin feels smooth to the touch when you feel from the direction of nose to tail, but when you feel the other direction, the skin feels like fine-grit sandpaper. Thresher sharks have an extremely long tail, which they use to whip and stun their prey. They also have an eyeball the size of a softball, since they live at extreme depths with little to no light. It was a once-in-a-life catch and I'm sure something he will remember for many years to come. Josh was blind but had the best attitude of any kid we've ever had aboard any of our trips. He was really into fishing and had a great positive attitude the whole fishing trip which is I'm sure why we had such an incredible catch.


This is the time of year that thresher sharks and other big game sharks and gamefish come through our waters. March through May is the time when all the biggest fish of the year bite on our Fort Lauderdale fishing trips. If you're into catching a sea monster, this is the best time to come fishing. Good luck to everyone fishing on our trips this week. I'll sea ya on the water.
Capt. Paul Roydhouse
www.FishHeadquarters.com
754-214-7863
More Fishing Reports: