Cold weather
Capt. Vinnie Sacks
December 30, 2016
Fort Lauderdale - Saltwater Fishing Report

Today we had our first real cold front of the year with the temperatures in the 60s this morning, usually with a cold front fish start becoming active and on the hunt for food, the last few days fishing has been slow due to the transition of winter climate.
We had some great clients today from the Michigan area today they were very excited to give it a go today on the YB Normal. We headed on our way this morning about 1 mile from shore, where we would start our fishing. Today due to the heavy winds we had to fish a little less lines than are normal spread, we started with 2 planners down and 2 surface baits.
Fishing had been very productive early in the morning for kingfish, they have been biting in 100-140 feet of water just outside of the reef, but the bite has been early, we managed 3 kingfish total this morning, 2 good size ones and 1 we had to throw back because it was to small, we continued to troll around the reef with few bites, we were marking fish on the fish finder but they seem to have lock jaw, so we made the call to catch some baby live bonito and live bait fish the rest of the trip.
We managed to catch 5 bullet bonito, and put them in the livewell, we had seen a bunch of small kingfish and mackerel sky rocketing live ballyhoo so what a great area to use the live bullet bonito. We started out with 3 live baits out a long, a short, and one down deep about 50 feet under the surface on the down rigger. We worked the area we saw fish busting with the live baits, after about 25 minutes the down rigger goes off and one of the customers was in a epic battle for about 30 mins. We never saw color till the end of the fight the fish was deep so we had multiple culprits as to what fish it could be, nearing the end of the fight we saw deep color and the fish raced to the surface to give a beautiful jump, the fish ended up being a beautiful trophy size barracuda, these fish are known for there huge teeth and great color. Everyone was in great spirits.
Time was closing in on us so we decided to make the call and head back to the dock, with a great trip in the books and happy customers everyone retired to the saloon to get out of the cold weather.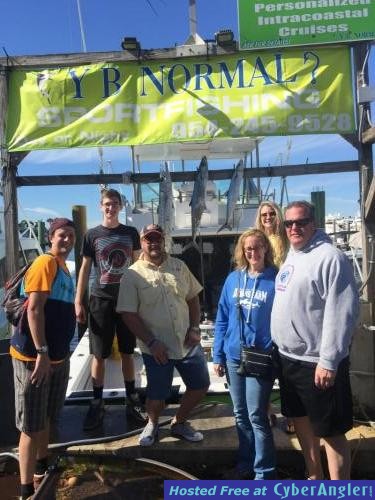 Fort Lauderdale Fishing Forecast:

65 degrees north wind 15-20
Target Species:

King fish dolphin tuna wahoo sailfish
More Fishing Reports: