Cooler Weather Hotter Fishing
Capt. David Ide
November 18, 2021
Fort Lauderdale - Saltwater Fishing Report

Halfway through the month of November and our fall fishing is in full swing. I almost hesitate to use the term "cold front" but our first of the season is due in just a few days. The shorter days have begun the cooling of the ocean waters and even a few degrees of cooler air will aid the process.
We have already seen the baitfish migrating south in the canals and just off the beaches. Where that food source goes so follow the fish. The fishing and catches are already showing improvement in numbers and variety. This time of year is always a thrill as you just can't tell what might pop up on your baits.
Trolling has still been the winner in producing fish. Kingfish and Blackfin Tuna have been plentiful. If you keep a watchful eye on those surface baits, Sailfish have been biting with regularity. It is always exciting to see that bill swiping back and forth before the fish takes that bait. Even the deeper lines have been attracting a few Sails. We can usually entice them to one of the surface baits as they follow that deep planer bait up from depth.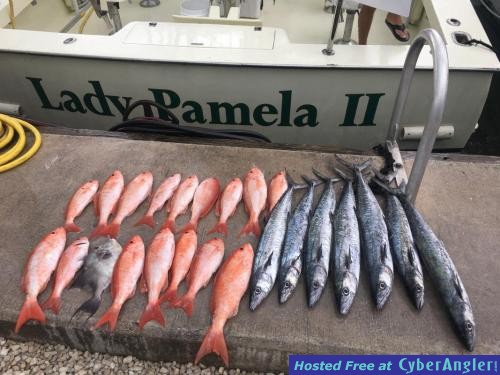 For those looking for table fare, Mahi-mahi have been making their presence known. While not something guaranteed, certainly one of the more popular fish we catch for eating. Blackfin Tuna, King, assorted snapper and grouper round out what's for dinner if that's your thing.
Ready to evaluate your strength? Amberjack and other various fish can be found on the deep wrecks and reefs. Those deep-water areas also produce some serious predator fish as well. Some of the more exotic sharks have been seen as well as a Goliath Grouper the other day.
It is all fishing, and you just do not know what will bite. Especially this time of year as the bait runs south.
Tight lines a Hope to see you soon.
Capt. Dave
Target Species:

sailfish , blacken tunas, wahoos
More Fishing Reports: