Kingfish and Bonitos are Snapping on our Deep Sea Fishing Trips
Capt. Paul Roydhouse
August 9, 2017
Fort Lauderdale - Saltwater Fishing Report


The kingfish and bonitos are absolutely snapping on our Fort Lauderdale deep sea fishing trips. There are millions, probably billions of bonitos moving through our waters right now along our coastline. The travel in massive schools to gorge on the smorgasbord of baitfish that thrive on our reefs. Action on the troll is pretty much non-stop. There is rarely a time when a rod is not bent over during our sportfishing trips. This awesome action on the reef doesn't last long. By mid-September, most of the these bonitos will have passed through and we'll be back to our regular fishing patterns.


Kingfish and bonitos make up the majority of our fish count this time of year, but they aren't the only fish biting. Blackfin tunas, barracuda, mutton snapper and sharks are all species that bite exceptionally well during the summer months too. We don't catch the same numbers of these other fish than we do the bonitos and kings, but variety is the spice of life. Even the oddball wahoo or sailfish will sometimes jump on the baits this time of year.


If you have time to do a quick drop around the wrecks or atop the reef, you are likely to catch a nice mutton snapper or grouper this month. Summertime is mutton time and they usually bite very good, especially in the afternoons and into the nights. We have a few spots that we like to do a quick deep drop on the way in to try for a mutton snapper quickly, that can add some color to the box. There's no better eating fish in the ocean than a fresh snapper.


Catching fish is not a problem most days in the summertime. There's a lot of variety around and plenty of fish to be caught. This is the best month of the year for catching general action on Fort Lauderdale fishing trips. Good luck to everyone fishing over the next few weeks. I'll sea ya on the water.
Capt. Paul Roydhouse
www.FishHeadquarters.com
754-214-7863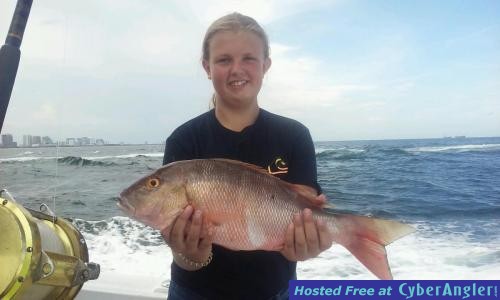 Target Species:

kingfish, bonitos, blackfin tuna, snapper, grouper, wahoo, sailfish
More Fishing Reports: