Summertime in South Florida
Capt. Michael Muldoon
July 23, 2017
Fort Lauderdale - Saltwater Fishing Report

July 23, 2017
Fort Lauderdale Beach -Bahia Mar
Mike here, Captain of Good hIt Sportfishing, hoping that you are enjoying your summer!
The past two months have been pretty successful for the Good Hit. When heading offshore the Mahi Mahi and wahoo have been found in 800-1100 ft of water. We have had the most success under southbound bird piles and under the occasional debris. Having live bait is key this time of year, Dolphin can not resist small to medium sized pilchards when found in schools. Casting the live bait in front the Mahi can trigger a reaction bite.
After we are finished catching Mahi on a piece of debris, we normally troll planner-boards around debris for wahoo. A couple of quick passes can tell you if the wahoo are present or not. Some of the smallest boards can hold Wahoos down deep, espically if bait is present.
One of my favorite styles of fishing this time of year is wreck ishing. What stands us apart from the bigger boats is that we can drop anchor on the deeper wrecks in south Florida. Normally our 100-200ft wrecks can be most productive, dropping hundreds of feet of anchor rope can be extensive work, but can be very rewarding.
The fish we target on wrecks are Mutton Snapper, Amber Jacks, Grouper, Sharks, and Kingfish. Our spread consists of 2 kite baits, one flatline spinner and two bottom rods. The bait of choice is live or dead pilchards and or small goggle eyes. Our favorite conditions would consist of north current with a consistent wind for the kite, this is when the wrecks will be biting the best.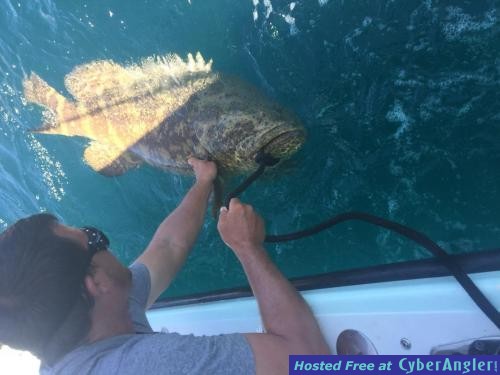 No current can keep the baits stagnant and the fish at idle. Shark fishing is more productive in a current, the scent of the dead bait will travel. Fishing Shallow wrecks the past two months have produced Giant Greater Hammerheads, Sandbar Sharks, and Bullsharks on the bottoms with chunks of Kingfish and Bonitos.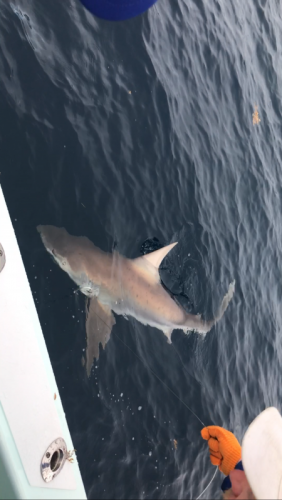 Lastly Trolling planner boards in 100-250 ft have been producing Kingfish, Bonitos, Wahoos, and Mahi Mahi. In June, the morning Kingfish bite was on fire! As fast as the baits were going out, the fish were coming in.
Usually fishing a blue spoon on the long planner and a green sea witch with Bonitos strip on the short planner. When July arrived, so did the great Bonito Run.
The bait of choice is the blue spoon and a number 4 planner board. Which is a Deadly weapon for the great Bonito also known as the swirl back aka speed perch. These fish put up a great fight and keep customers busy when the bite is slow. We also use the skin to make strips for the winter time kingfish bite.
I Hope you enjoyed my Summer Post
Captin Mike owner/operator at Good Hit Sportfishing
goodhitsportfishing.com
Fort Lauderdale Fishing Forecast:

Fort Lauderdale Fishing Forecast:

As Fall approaches we ready the Good Hit for Swordfish Season, peak months are October and November.
Target Species:

Swordfish, Mako, Mahi Mahi, and Tuna
More Fishing Reports: