Winter Fishing Report
Capt. Steve Souther
December 25, 2022
Fort Lauderdale - Saltwater Fishing Report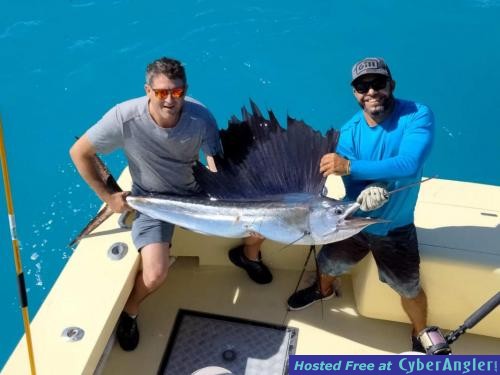 For the first time in years, we will be celebrating Christmas without our A/C's on. The high here in south Florida is forecast to be below 60° Christmas day. Unfortunately, for most of the country, you will be much colder.
Cold fronts like this are important for our fishing. The northerly winds make swells that travel down our coast. With the cooling of the ocean waters and this swell, Sailfish "tail" (basically surf) these swells to help them move south for spawning. It is quite a sight to see as they come through in numbers on the surface. And it makes for some great sport fishing.
Sailfish are a highly sought gamefish to catch for many anglers. Their edibility is poor, so we seldom take the fish. We go to extremes to protect them when boated for measurements and pictures and we spend time reviving them before releasing them back to the sea. Live bait and fishing with kites is but one of the techniques we use to entice these fish.
But there are other fish waiting to be caught this time of year. Tuna, Kingfish, Wahoo and Mahi are among those targeted. Again, live bait is the preferred method, and everything will eat, or try to eat, a live bait. These are mostly pelagic fish, migrating south for the winter. They will be passing by again in the spring headed for cooler waters.


Our drift fishing boat has been having some great fishing. Mostly bottom fish are being caught, depending on the conditions. This African Pompano was caught just a few days ago on the drift. An excellent eating fish and quite beautiful. This fish will be made into a replica for the home of the angler. Quite the catch along with the snapper and other bottom critters we catch.
We at Fanntastic fishing hope you join us for some exciting times on the water. And may we wish you all a very Merry Christmas and a Happy and Healthy New year.
Capt. Steve

Target Species:

Sailfish, Mahi-mahi, Tuna, Sharks and more
More Fishing Reports: