Go When You Can - The Bite Is Going Strong
Capt. Eric Anderson
September 7, 2016
Fort Myers - Saltwater Fishing Report

I haven't posted a report in quite a while, I hate posting the same report all the time. As many of you know I spend nearly everyday from April to October chasing our resident Tarpon. The Tarpon fishing has been consistently good as it usually is with most of my clients missing a few jump offs and landing a fish or two most days. Now that fall is just around the corner its time to get out and fish the flats. Just before the storm passed I was out at first light and saw big fish tearing into bait. They turned out to be some nice size jacks and they were on the chomp! They were hitting Savage Gear Hard Mud Minnow top water baits with a vengeance. Here's my client with one of the many he caught. He also hooked and jumped a Tarpon that was in with the Jacks!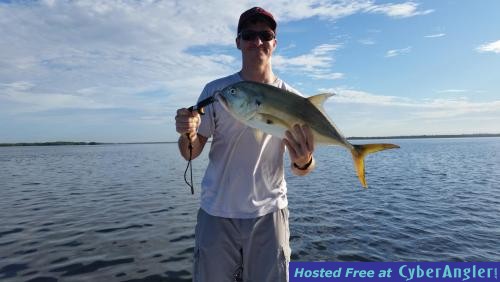 This bait is very easy to "walk the dog" with and its tail down posture helps lessen missed strikes. The 3 1/2" size is a perfect match for the white bait most of the time. This is the time of the year I get to chase redfish between Tarpon trips. Get out there early and look for schools of mullet on the flats, there is almost always a Redfish in with them and once in a while a bonus resident Tarpon
Please practice catch and release with the redfish. Their numbers are way down and the biggest threat to the future is the lack of juvenile fish under 14". They seem to be almost completely absent from Estero south to Marco.
Have A Great Fall On The Water!
Capt Eric Anderson
capt-eric@whatahawg.com
More Fishing Reports: