December Fishing Report & Forecast w/ Hoke Fishing Charters
Capt. Dave Hoke
December 15, 2011
Fort Myers - Saltwater Fishing Report

Capt. Dave Hoke
CaptDaveHoke@aol.com
239-425-7452
www.hokefishingcharters.com
Let me start off this newsletter by noting that I am adding a new boat to the fleet in late January. I am having a new boat built in Hudson, Florida by a boat company called Dream Boats, Inc. The boat is a 21' Intruder Cat, and it will run in 2-3" of water and still float in less than 8". On rough days, this boat has the capabilities to ride through rough water better than my Shearwater Tower boat that many of you have been on before. This new boat will be powered with a brand new Yamaha 150 4 Stroke, and all top of the line accessories. I am very excited for its arrival as it will be allowing me to get to fish that are relatively untouched on our low winter and spring tides.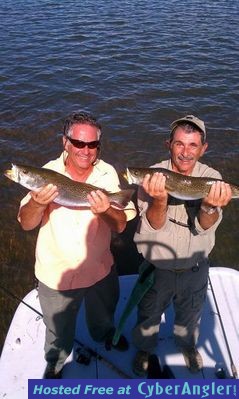 Also, I am providing gift certificates for anyone who is interested in a last minute Christmas gift. Please call or email me if you are interested in purchasing one for a friend, family member, or even for yourself haha.
Now on to the fishing report and forecast!
December has provided outstanding light tackle fishing for redfish, trout, pompano, and flounder in Pine Island Sound. The month has started out much warmer than 2010, and the fish have responded well to it.
There are more redfish prowling our flats and creeks than I have seen for quite some time. There are healthy numbers of 22-28" fish scattered all throughout Pine Island Sound, Matlacha, and Charlotte Harbor. We have been catching most of the fish on Berkley Gulp Shrimp on 1/4 oz Mission Fishin Jigheads. The leader of choice has been 20 lb Test Stren Tinted Florocarbon Leader in the Gunsmoke color. The reel of choice is the Penn Battle 3000 spooled with 10 lb Berkley Nanofil Line. This new line is outstanding, and will eliminate nearly every wind knot that you have experienced from other superlines. However, be advised that you need to double your main line with a SpiderHitch knot before you attach the mainline to the leader or it will slip. This is a very common mistake that many people are making. If you do not want to tie the Spiderhitch, use a Double Albright knot to attach the mainline to the leader.
Trout fishing is very strong but remember it will be catch and release until January 1st. Most of these trout are in giant schools right now and are moving a lot getting ready for the expected cooler weather. If you fish the right pothole or trough at the right point in the tide, you can be greeted with an excellent trout bite that may last for hours.
Flounder and pompano have provided some extra excitement for those looking to catch something other than redfish and trout. Most of the flounder have been ranging from 11-15" and the pompano have been 2-3 lbs.
I hope everyone has a Merry Christmas and I look forward to fishing with you soon!
Capt. Dave Hoke
CaptDaveHoke@aol.com
239-425-7452
www.hokefishingcharters.com

Target Species:

Redfish, Trout, Pompano, Flounder
More Fishing Reports: