Fort Myers Fishing Report - Good Fishing On A Windy Day
Capt. Eric Anderson
October 3, 2015
Fort Myers - Saltwater Fishing Report

The brisk winds that were forecast for today actually materialized, and were out of the North/Northwest at 15 to 25 mph and higher in gusts. I mentioned in my October 2nd report that the inshore Tarpon fishing continues to be excellent so get out there and give it a try. I encountered some interesting Tarpon behavior today that I'm not sure I've seen before. Normally this time of the year we are still in the summer pattern of calm wind until around 10 AM when it begins to pick up. Usually by the time the strong northwest winds start to blow the water has cooled off and the Tarpon have shut down for the winter. It was fascinating today to see how the drastic change in wind direction and speed affected the bite. I knew from yesterday exactly where the Tarpon were so it wasn't a matter of finding them, we were on a go and catch mission. For some reason known only to the Tarpon the more the water was exposed to the wind, the less active the Tarpon were. You could see them rolling but they had no interest whatsoever in biting, which was the exact opposite from the day before. Who knows why the wind changed their behavior, it may have had something to do with the chop on the water which reduced light penetration in the already very dark water. ( That's My Best Guess)
To solve the dilemma I went to areas I knew would be protected from the wind where the water would calm. Sure enough that seemed to be the difference between actively feeding Tarpon and fish that were either neutral or negative. My clients today were fly fisherman from Maryland and while the wind made casting a bit difficult, it wasn't bad. They were both able to jump some Tarpon and Jonathan was able to catch and release this beautiful 34 inch Snook, his first on a fly rod. We didn't see a lot of Snook today but the guys did miss a couple others, the wind seems to have the same affect on the Snook that it did on the Tarpon.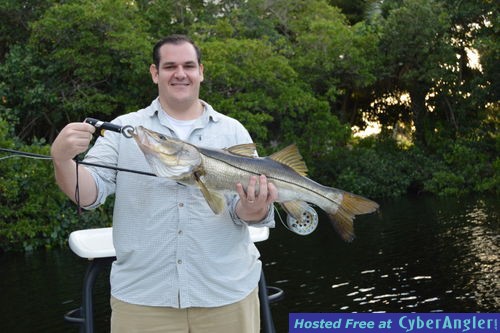 Today is a good example of why you should go fishing even when the forecast looks marginal. As a full time guide I don't have a choice, I just deal with the weather and find a productive pattern for my clients. Granted you may not end up having a stellar day on the water, but you just might end up catching a great fish or two that can make the entire trip a resounding success. As long as it's not lightning, get out there on those tough weather days, you may discover something new and catch a decent fish or two in the process.
First Saltwater Fish Club
We all remember the first saltwater fish we caught regardless of size or species. I thought it would be nice to acknowledge a client's first saltwater fish. Congrats to Bill D for his first Tarpon and his first on a fly rod!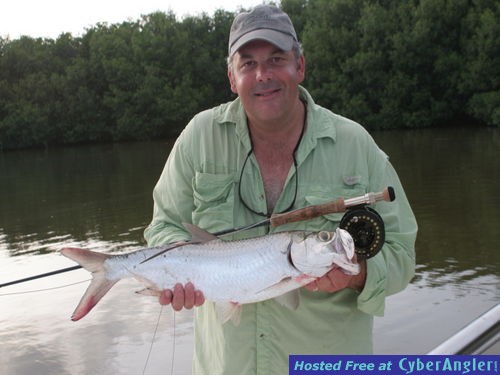 Good Fishing
Capt Eric Anderson
239-290-4103
Capt-Eric@whatahawg.com
More Fishing Reports: