Jaxson's Sanibel Island Redfish
Capt. Paul Hobby
July 23, 2014
Fort Myers - Saltwater Fishing Report

8-year-old Jaxon Beiro from the other side of Florida, wanted to do a little flats fishing on the West coast of Florida. Since he's not old enough to drive, he invited his parents Jose and Sarah. Fortunately for me they called me to take them out and to show them the area. Like I said, Jaxon is only 8 years old but he has the fishing passion that would equal anybody in Florida. He can cast a spinning rod and reel like a seasoned adult and for a fishing guide like me, that is a real treat to have someone like that on the boat.
We started out the day catching lots of Ladyfish and Sea Trout and hoping to see or hook a Tarpon in the process. We didn't see or hook any Tarpon so we went looking for Redfish on the shallow grass flats. Jaxson had never caught a Redfish, so it was on his list.
At our first spot it didn't take Jaxson very long to hooked into one. It was his first Redfish ever and he was proud to catch it. It was probably 22 inches long.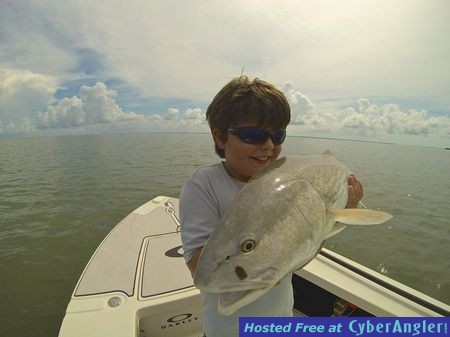 Jaxson's first Redfish
After he landed that fish, a fellow guide Bruce Ringsmuth was a few hundred yards away and he was waving us over to where he was anchored. He said he was on some Redfish and invited us over to his spot because he was leaving soon. We can't thank Capt Bruce enough for inviting us over. More guides, including myself, should be that considerate and kind. So we poled over close to where he was anchored and on the first cast, Jaxson had another Redfish on the line, and it was larger than the previous.


His dad Jose, kept trying to hook a fish but had no luck. Look at the picture below to see how intense he was.

For the next couple of hours Jaxson caught numerous Redfish ranging in size from 26 inches to 32 inches. A 32 inch Redfish weighs about 12 pounds in this area.

Jaxson fighting a Redfish with his dad in the background not catching fish
Jaxson fighting a Redfish with his dad in the background not catching fish
A big 32 inch Redfish
A big 32 inch Redfish


Jaxson caught so many Redfish that we stopped taking pictures. Thats a good day when that happens.

Jaxson's arms were getting tired so he would hook the fish and let his dad reel in a few of them.

Great father & son picture
As time was getting close for us to leave, Jaxson hooked a huge fish and it pulled the drag faster and further than the previous Redfish we were catching. After an intense battle we saw that it was a huge Snook. This Snook measured 40 inches, which is about 20 pounds.

Jaxson with his 40 inch/20 pound Snook
'That Snook was a huge bonus for the day. We often catch Snook on this grass flat but usually not that large.
That was a perfect time to end our fishing trip. It was obviously a good day because we all know that some days, "it just ain't happening" but this day, it was.


Jose carefully releasing Jaxson's Snook

More Fishing Reports: