"Spectacular Fishing Continues" w/ Hoke Fishing Charters
Capt. Dave Hoke
February 24, 2013
Fort Myers - Saltwater Fishing Report

Capt. Dave Hoke
www.hokefishingcharters.com
239.425.7452
captdavehoke@aol.com
It is officially still winter in Southwest Florida but the weather sure feels like Spring. Water temperatures are creeping into the mid 70's and bait is showing up in abundance. I am starting to see large quantities of snook in Pine Island Sound which is a great sign that the states moratorium on Snook is helping protect this precious resource. There will be a public hearing in June to discuss the reopening of a Snook season in September of this year. I personally hope to be there to represent myself and other guides in Southwest Florida to keep the season closed for a minimum of two more years. While we are beginning to see positive signs of improvement in population, there is still a lot of work that needs to be done to get stocks back to where they were 4 years ago.
Redfish have been a heavy target, as usual for this time of year. An increase in water temperature coupled with the abundance of bait in the area has grouped our fish together in large schools on the grass flats of Pine Island Sound. Most of the redfish have been in the 22-30 inch range with a few bigger fish mixed in as well. Most of these fish have been caught on whitebait under a cork.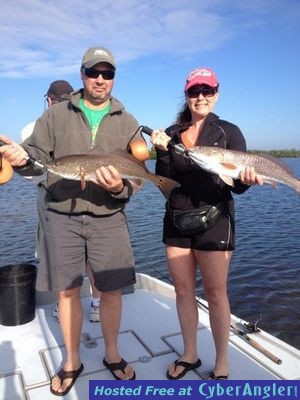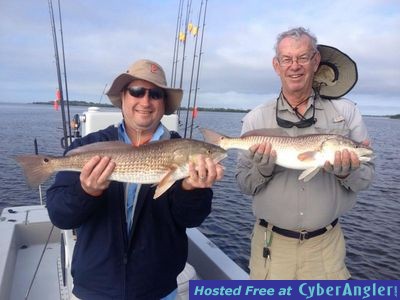 Trout fishing is only going to get better as the water temperature increases. We are catching fish on freelined shiners, shiners under a cork, and also an assortment of Gulp artificial baits. We have been catching many trout over 25" and a couple have even hit the 27" benchmark. Remember, trout are going to be spawning soon and most fish over 20" are going to be full of eggs. I strongly encourage catch and release of our breeders.
I really don't have any BIG fish reports at this time. The water temperatures need to rise about 5 more degrees and stay there for about a week before we start to see our bay fill up with sharks. I expect this to happen in the next couple weeks.
Tarpon fishing is just around the corner as well so I encourage you to get a trip booked for May and June before all of the best tides are taken.
Also, I must say I am very pleased with my new Penn Spinfisher V's that I have been fishing over the last couple months. I have been using the 3500 series with 10lb Spiderwire Invisibraid and I am very impressed with the distance I am getting out of my casts. Most of these reels have caught over 100 big bruiser redfish a piece and they are still as smooth as when I took them out of the box!

You don't have this happen on the boat everyday, she said Yes!
Tight Lines everyone and I hope to hear from you soon!
Capt. Dave Hoke
www.hokefishingcharters.com
239.425.7452
captdavehoke@aol.com

More Fishing Reports: