Steady weather makes for excellent Fort Myers fishing
Capt. Rob Modys
November 12, 2015
Fort Myers - Saltwater Fishing Report

Looks like we are finally going to get break from the very warm weather. NOAA is calling for lows in the 60's by the weekend with highs in the low 80's. Perfect fishing weather.
Capt. Neil Eisner of Fishing The Flats Charters noted that redfish action was pretty easy to find this past week. Fishing the early morning outgoing tides and using the east wind to help push it gave his anglers plenty of moving water. This was all it took to find the upper slot redfish. Using a 1/4 ounce lead head jig with a larger shrimp was the bait of choice and then pitching them up under the mangrove overhangs did the trick.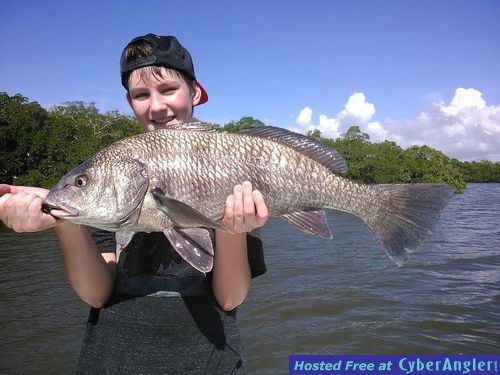 Capt. Alex Dolinski of Spot On Charters had a couple of good redfish trips early in the week. Gerry Hargrave of Texas produced 5 redfish from 18 to 26 inches using cut pinfish on 3/0 circle hooks free lined along the mangroves during the incoming tides in Estero Bay. He also caught a few ladyfish and rays to add a bit more to the fun. Capt. Alex also fished with the Lalowski family from Chicago. Ed junior landed a big 32 inch black drum on cut mullet. The family also got 4 redfish from 15 to 27 inches.
Capt. Jon Fetter of Catching The Cure Charters said that variety was the spice of fishing this past week in both the back bay and nearshore waters near Fort Myers Beach. The nearshore waters were teaming with spanish mackerel, ladyfish, jacks, sharks, whiting, silver trout and pompano. Casting spoons into the bait pods was the ticket for the spanish, ladyfish, and jacks while bottom bouncing shrimp tipped jig heads worked fine for the rest. Fishing the higher water around the mangroves and oyster bars produced redfish, snook and sheepshead.  Cut ladyfish and shrimp seemed to work best for the reds and sheepies while free lined pins or whitebait on 2/0 circle hooks was the setup for snook. 
Capt. Larry Hendricks of Tall Tail Charters said that reef and inshore fishing in Pine Island Sound remains about as hot as it can get. On the reefs his anglers caught large mangrove snapper, well over minimum size gag grouper and cobia to 50 pounds and beyond. They also caught several kingfish over 25 pounds along with barracuda to 40 plus pounds. The grouper and cobia are readily taking large pinfish, weighted appropriately for the current (1/4 oz to 4 oz.). Mangroves are taking lightly weighted shrimp on either circle hook/egg weight combos or circle hook jigs. The inshore redfish bite just can't get any better. Mangroves, flats, and docks are all giving up multiple fish with many being over slot. Again live pilchards and pinfish are working just fine. Snook are still in their normal haunts and he noted seeing several free jumping tarpon around the power lines.
Capt. Scott Theis of Entice Charters said that the snook and redfish are biting well on live pilchards around the islands near the passes of Estero Bay on incoming tides. Ingrie Wilson from Ohio hooked and landed two slot size snook along with slot reds, additional small snook and some nice jacks mixed in. On another trip, Michigan native Steve Solomon caught a dozen reds while working the mangrove bushes.
Capt. Greg Stamper of Snook Stamp Charters said that going after redfish continued to take top billing this past week. They were caught in every manner, from artificial lures, cut baits and of course live shrimp. Snook continued to fill up the docks as they push into their winter refuges. They where more than happy to take live shiners on 2/0 circle hooks. Seatrout fishing was also good in 3 to 5 feet of water over grassy areas. They took both topwater and subsurface lures consistently as well as the old reliable shrimp on a popping cork.Tarpon continue to be seen off many of our beaches and around the bridges. Cobia, kingfish, spanish mackerel and bonita are just a few of the common offshore species you'll see this time of the year while running out to your grouper grounds, so pay attention while on the move.

More Fishing Reports: