Windy days on Estero Bay, but the bite held
Capt. Rob Modys
October 23, 2015
Fort Myers - Saltwater Fishing Report

A breezy week made for some difficult angling, especially for offshore boats. The weather forecast looks a lot better and that ought to improve the fishing quite a bit.
Tripletail fishing season is upon us. This it time of year the stone crab boats put their pots out in long lines in the Gulf of Mexico. The trips love to settle against those buoys and act like a patch of seaweed. Your best shot is to cruise the crab pot lines and be on the lookout for a tripletail. If you see one, turn around, shut down and setup with the current. Cast a live shrimp away from the buoy and let the current take it to the fish. It shouldn't take long to hook up.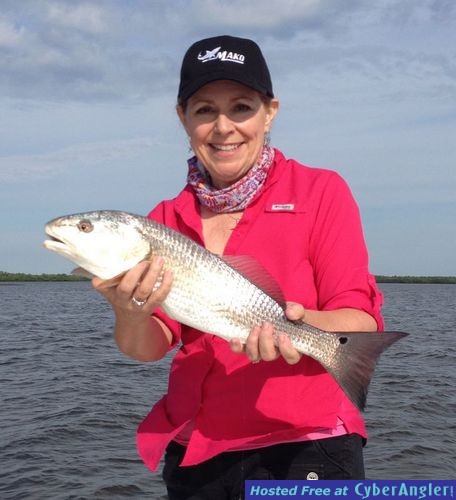 Capt. Jon Fetter of Catching The Cure Charters said that this past week the fishing in and around Estero Bay was very good with both size and variety.  The redfish bite is steady around the oyster bars and mangrove islands on moving water. Shrimp tipped jig heads and shrimp under floats both worked well. Snook are still around and will take free lined pins on 3/0 circle hooks thrown under the floating docks near the passes. Seatrout are biting on the grass flats in 2 to 5 feet of water and a shrimp under a popping cork is the old standby. Anglers will also pick up plenty of ladyfish with this set-up. Sheepshead are making their presence known in the back bay around structure. Small offerings of shrimp on #1 circle hooks will get the job done.
Capt. Neil Eisner of Fishing The Flats Charters said this past week saw plenty of redfish action. Fishing the backcountry of Estero Bay his angers used live shrimp on 1/4 ounce lead head jigs to get the reds, black drum and sheepshead. The incoming tides produced some nice over slot reds and many more in the slot. Sheepshead are starting to school up but most are still small. Capt. Neil recommends using a number 2 thin wire hook for sheepshead and be sure you let them eat before setting up on them.
Capt. Larry Hendricks of Tall Tail Charters said that windy conditions and client requests kept him inshore this week. Bait is getting better in quality and quantity with massive schools of pilchards reported just off the beaches. There are also hoards of little threadfin herrings on many of the inshore flats. We fished for and caught seatrout early on the incoming tides and found some snook and reds in the bushes of lower Pine Island Sound. The trout were easy to catch on both artificial jigs of various colors and the standard baitfish under a cork. Reds and snook bit well on both live baits under a cork and smaller pieces of cut ladyfish and pinfish. Shrimp were used as well but the smaller fish tended to annihilate them before anything sizable could find the offerings.
Capt. Greg Stamper of Snook Stamp Charters noted that a drastic change in the wind and temperature mixed things up this week. As two cold fronts pushed their way through, prefrontal redfish could be found chewing on incoming tides along mangrove shorelines with an occasional flounder in the mix. Vise versa, the days when the wind blew strong and held the water out for extended periods of time, slowed down the bite. During those slow times, working mangrove shore lines and docks enabled his anglers to pick up a few snook. The passes continue to hold tons of spanish mackerel, some nice pompano and a bunch of random things like ladyfish, sharks and jacks. The stone crab traps are all out now, so if your on the outside keep an eye out for a tripletail or a few wandering cobia that can really make your day.

More Fishing Reports: