No winter here! The bite is on in Estero Bay with reds and snook
Capt. Brad Brown
January 3, 2017
Fort Myers - Saltwater Fishing Report

Ok. The Holidays are over and it's time to get serious. Just because it says it's winter on the calendar doesn't mean we stop fishing here in Southwest Florida. As a matter of fact we are having a beautiful winter with lows in the 60's and highs in the 80's and the fish are biting.
On recent trips my anglers scored on snook, redfish, seatrout, jacks and even a couple of goliath grouper that were hiding in the backcountry. The redfish are biting best on the inbound tide where there's good water movement. We've been finding them in the feeder creeks of Estero Bay. The snook are there too and are still on the feed. Normally by this time of year they are holding up to escape the colder weather. Not so this year. They are still feeding and fattening up.
Seatrout are on the open flats and will go after live bait under corks or free-lined. The mix has been good with both under and slot fish. A few trophies have also been caught.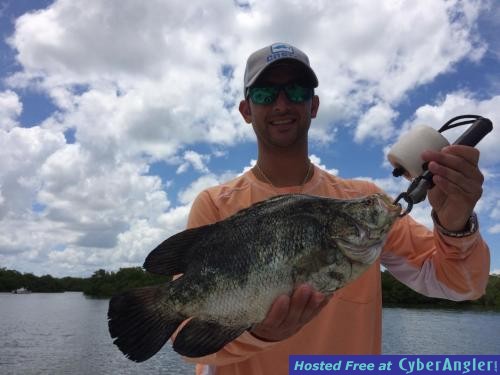 The stone crab season is in full swing in our nearshore and offshore waters. That means lots of crab traps with marker buoys. Those floats will hold tripletail. This is great sight fishing fun. We cruise the buoy line until one is spotted and then cast to it. Fingers crossed! If he takes the bait it's one of the best fights on light tackle.
NOTE: Winter is our high season. If you want to get out there on a charter you should book soon.
More Fishing Reports: