2011 Year in Review w/ Hoke Fishing Charters
Capt. Dave Hoke
January 1, 2012
Fort Myers - Saltwater Fishing Report

Capt. Dave Hoke
www.hokefishingcharters.com
239-425-7452
captdavehoke@aol.com
Greetings everyone! Although 2011 has officially passed us by, it is not too late to look back and ponder all the great memories that took place aboard my boats this past year. I am thankful for all of my repeat clients who I have had the pleasure of fishing with over the past 7 years, but I am also excited about the new clients that I have met and the relationships I hope to maintain and build on for years to come.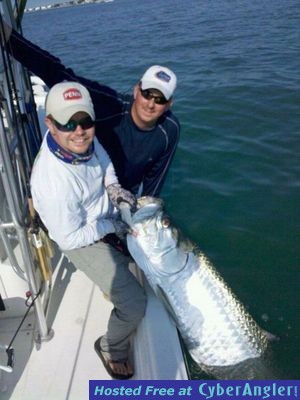 I have very big plans for the year 2012, largely in part because of the addition of my new 21' Intruder Cat boat. Also, I have signed with Penn Reels and Pure Fishing to be among their elite Pro Staff, a pro staff limited to just a select few anglers in this state. It is an incredible opportunity to work closely with a company that I have upmost respect for and that I have stood behind for many years.
My main focus in 2011 was tarpon fishing and it will continue to be for as long as Megalops Atlanticus migrate through our local waters. I had the pleasure of helping hundreds of anglers ranging from as young as 8 all the way up into their early 80's land the silver king. Our tarpon season begins during the last week of April and will run all the way until August. However, the opportunity to land a tarpon is not limited to those three months as there are tarpon roaming our bay, beaches, and harbor all the way through the month of November.
Additionally, December 10th marked one full year that I have guided out of Four Winds Marina on Pine Island. I spent the previous 6 years guiding out of Pineland Marina on Pine Island until I made the decision to switch over to Four Winds. It has been a great experience and I am so thankful to have the opportunity to operate my business out of a first class establishment such as theirs.
I had a ton of unbelievable charters this year. I am going to take a few minutes to tell you 5 of my best charters and give you the short version of some of these trips.
#5 As many of you know, trout typically do not get much bigger than 28" on the west coast of Florida. In my opinion, any trout over 25" earns the title "gator" trout and is always picture worthy. On a mid-March morning I started my morning trip around 8 am and departed into the fog. We had a strong incoming tide for most of the morning and I decided to anchor my boat upwind of a large pothole that I had been catching a handful of large trout out of over the previous week. For the next two hours we boated 21 trout over 25" and a half dozen over slot redfish. Needless to say, it was hard to find an encore to that!
#4 I had a two boat charter with fellow guide, Capt. Cory Mcguire for two days back in October. We had fished these clients a couple days prior and had settled a few schools of redfish together and boated tons of giant copper redfish. However, the final day of this group trip was by far the best and most unforgettable. It was after lunch, the bay was slick calm and I made the decision to head south to a school of redfish that had been cooperative over the last few days. As I approached the spot, I could see the school of fish floating on top of the water with their backs out of the water. After I unloaded the chum to them, we proceeded to catch upwards of 100 redfish over 30" and I never had to reposition the boat or chase the school once. The school swam on top of the water the entire time and we were nearly hand feeding them shiners behind my engine.
#3 It was during Tarpon season and I had a client that booked a 10 hour day with me. He had two objectives for the trip. One was to catch a 150 lb tarpon, and the other was to catch an overslot snook. Many outdoorsman who fish regularly never catch both during an entire calendar year so I knew I had my work cut out for me. Fortunately, I had good weather and a lot of time to get both goals accomplished. I started at 6 am and by 6:30am he was hooked up to his second tarpon. After a couple brief encounters with sharks, we were able to pull the fish boat side and took measurements that computed the fish to be over 190 lbs. I knew the snook bite would turn on at the beginning of the outgoing tide so we continued to tarpon fish for a few hours until the tide began to slack. I believe we were 3 for 4 that morning with a couple other fish in the 120lb range when we decided to go snook fishing. I stopped on a tide line and loaded up the livewell with fresh threadfins and we were off to the promise land. That afternoon we proceeded to land 6 snook over 36" with the largest stretching the tape at 39". We were broke off by numerous other large snook and landed a half dozen of lower slot fish as well. It was truly an unforgettable trip for both of us and I will remember this for a long time.
#2 I had numerous days where we put double digit amounts of Tarpon in the air. One of the best days I had this year took place offshore just after a strom passed through. I had a group of fish 5 miles offshore all to myself. The school of fish was an acre wide and we had double for five hours until the trip was over. I am not sure the total amount of fish jumped for the afternoon, but it was well over 20 fish and almost every one of them was over 100lbs.
#1 The most unforgettable charter I had this year was in early August. I anchored up on a nearshore wreck in about 15 feet of water where I had been catching some large breeding snook over the previous few days. I stayed on anchor the entire morning and the family proceeded to catching 30 snook over 30" as well as a few 30+" redfish and a few big gag grouper. I went through two spools of fluorocarbon leader but it was well worth it!
Well, that wraps up my year in review for 2011. I hope you all enjoyed the read and I have attached a few pictures for you to enjoy.
Happy New Year!
Capt. Dave Hoke
www.hokefishingcharters.com
239-425-7452
captdavehoke@aol.com

More Fishing Reports: