Homosassa is Gold Redfish Mine
Capt. Mike Locklear
March 29, 2009
Homosassa - Saltwater Fishing Report

Both redfish and trout action has been very good around Homosassa and Crystal River.
John Caldwell Jr. and sons of North Carolina enjoyed landing 21 redfish this past Friday. 4 of those fish were over the 27-inch slot and most averaged about 5 pounds.
Two of the sons are twins, one wears a UF cap and the other a UT cap. See photo below. It was their first trip to Homosassa and their first redfish trip. The younger one Brett has been here with his Dad before.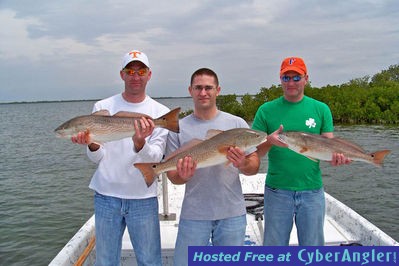 Also a lot of good memories were brought back from viewing the late John Caldwell Sr. photographs from back in the late 80's while on board the trip. In that album, I recognized a seemingly lost friend by the name of Ben Bumgardner. Heck, as old as that picture was, Ben looked lost anyway. Ben cherished Mr. Caldwell and I hope the economy gets better so Ben can pay me a visit in the literal sense.
Back to the forecast and how to stuff, April represents the first full month of Spring where along the Nature Coast the weather becomes mild with many good fishing days.
Try to fish the stronger incoming tide days for redfish near the full and new moon phases. These fish will appear near the points and shorelines where rocky structures called "limestone outcroppings" because on low tide they will be exposed.
The mouths of the spring-fed rivers and creeks as well as the coastline mangrove islands will hold the majority of redfish.
For redfish, the universally accepted artificial bait is the ¼ oz. gold spoon. I prefer the Johnson name brand with the single hook.
Trout have been abundant and will continue to be throughout the month of April.
Both The Crystal River Bay and Homosassa grass flats west of Ozello in depths between 4-6 feet of water will hold schools of both keeper and throwback trout.
The Cajun Thunder or DOA cork rig in glow white or rootbeer is a sure bet producer. I prefer to use a single jig head in ¼ oz. or lighter without the cork. I like to feel the strike.
While you are drifting the flats, you may want to use lighter leader for trout like 15-pound test. But, if you get cut off then you may change to wire leaders to land the mackerel, bluefish and sharks that will attack your jigs if you increase the speed of your retrieval. Most trout will hit while the jig is falling where blues and macks like shiny lures and fast retrieves.
Don't forget your top water MirrOlures. They can be a blast!
Homosassa Fishing Forecast:

Mackerel are King off shore while Spainish are inshore. April 1, Grouper Season opens and will be thick as bees on honey. Redfish will be excellent all spring and summer. Cobia will show up in force starting in April.
Target Species:

Grouper Cobia Tarpon Snook Redfish Trout
More Fishing Reports: