Islamorada Fishing the Gulf
Capt. Richard Stanczyk
November 6, 2012
Islamorada - Saltwater Fishing Report

Well the mud and nastiness from hurricane sandy has finally started to clear in the gulf and bays in the backcountry this islamorada fishing in november trip on 11/4/12. We headed out west looking for spanish mackerel this morning as they start to show up this time of year. Shrimp, pinfish, and some fresh pilchards were easy to obtain this morning and would prove great baits to have! We hit a wreck that was loaded with various fish. Some big mangrove snappers, lots of bluefish, jacks, ladyfish... After 45 minutes or so a few mackerel started making there way in, we caught about half a dozen mostly decent sized fish and broke off a few others backcountry fishing florida keys. In a few more weeks and after some more cold weather this fishery should improve. Fishing the gulf of mexico can be a great option before the water gets down below 70 degrees. After we had our share of that, we headed further out into the gulf. The water on the way was looking much better than previous days, we did hit a few muddy strips but once we got out further it was decent looking. The tide was still falling and we hit another wreck 40 or so miles out from home. Saw a school of islamorada permit as we pulled up, we set the anchor and put out some pinfish and a big rod on the bottom. Had a couple more shots at permit, one swam into the boat and spooked and another would not eat he was laying on the surface though with a big chunk out of his back - must have almost been shark food! We then had shots at cobias, catching 4 and one nice on of about 20 lbs on light tackle. We also caught a small goliath grouper and about a 100 lb goliath, as well as a 250 lb bull shark that gave us a real fight! After the tide quit things slowed down, so we looked for a few triple tail on the way in, saw a couple caught 1 and had another one eat, spit, and get spooked. Anyways great day fishing the florida keys in november, we should have great tides and weather hopefully through the end of the week, so it's a great time for cobia fishing in islamorada as well as the rest of the gulf! Capt. Jim Willcox and Capt. Perry Scuderi also had a group trip, both reported a couple cobias, mackerels, bluefish, snappers, and some big sharks - lots of action for their customers. Capt. Ken Cohan had similar a simlar catch as well including two goliath groupers.
Capt. Rick Stanczyk
305-747-6903
rick@seethefloridakeys.net
www.budnmarys.com
www.fishingislamorada.com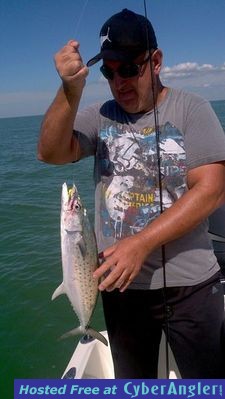 Islamorada Fishing Forecast:

Cooler weather should bring lots of spanish mackerels, pompano, bluefish, and cobias. Also the redfish, black drum, and snook fishing is great in the creeks of mainland florida!
Target Species:

mackerel, grouper, cobia, permit, snook, redfish
More Fishing Reports: