Fantastic Fall Fishing - North Florida
Capt. Ron Schurr
October 29, 2009
Jacksonville - Saltwater Fishing Report

The fall flounder run has kicked into high gear along the inland waters of Northeast Florida. Although the water temperature has only dropped a few degrees flounder are making there yearly October and November migration. Last week, our fishing club, Florida Lure Anglers held a catch and release tournament. The format for the event was 5 flounder per boat, lures only. Catching a couple flounder on artificial lures can be challenging, but landing a 5 fish limit can seem unlikely. When the dust finally cleared, 20 boats out of 60 weighed five flounder, and a total of 145 flatties were released. That's pretty impressive.
Right now the fish are not stacked up as they normally would be along deepwater riprap structures and docks along the Mayport section of the St Johns River. The better numbers and sizes of flounder are being reported in depths less than 8 feet along shallow mudflats, creek mouths and pockets along and off of the river and Intracoastal Waterway. One of the nice things about targeting flounder is that you don't need an assortment of lures. Top flounder lures are spinner baits, buck tail jigs and 1/16th oz to ½ oz jigs with tube lures, or gulp curly tail grubs. Flounder lay on the bottom waiting to ambush a passing mullet or minnow, so constant contact with the bottom is obviously a must. Spinner baits have become one of the "go to" lures with anglers in the last few years. The blades flash and vibration created by the lure trigger reaction strikes and allow one to cover a lot of water.
First place finisher Chuck Delingher scored this doormat on a Slayer Inc spinner bait.

Speckled Trout and Yellowmouth trout are also all over the main waterway's, especially from the Dames Point Bridge to south of downtown Jacksonville. Schools of mullet are on the move which means catching big gator trout on top water plugs. I recently discovered a couple of fantastic top water lures made by Tsunami. Both the Popper and Walking Minnow have accounted for double digit catches of specks each trip along with numerous explosions that will leave your knees shaking.

Redfish, which are my favorite, have pushed into the feeder creeks and backwater bays following the mullet and shrimp. I have been having a blast catching reds on Cajun Thunder popping floats tipped with 3" Berkley Gulp Shrimp on a small jig head. I have found the first few hours of the falling tide, as the mullet start to flush out of creeks, to be the best for slinging these floats. The best locations are bays and pockets with broken patches of Spartina grass and feeder creeks. The loud clack and pop created by the brass beads will draw in redfish from a long distance looking for an easy meal. It becomes somewhat addictive to anticipate the strike and watch the float disappear followed by a drag burning run of a 10lb redfish. It's not uncommon to catch a dozen or more upper slot fish while working one bay or shoreline. As mentioned above spinner baits and top water plugs also are a requirement for this high water fishing which will last through November. The fall and winter months are the best times for outstanding inshore fishing in the Jacksonville, St Augustine and Amelia Island waters.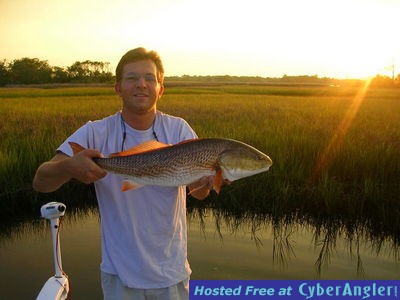 More Fishing Reports: