JACKSONVILLE: Frenzy Fishing!
Capt. Dave Sipler
June 14, 2014
Jacksonville - Saltwater Fishing Report

With a brand new, super powerful Suzuki 250 Horse power, "fly-by-wire" Outboard on the transom of the Jettywolf....June has been a pleasure, to be on the water.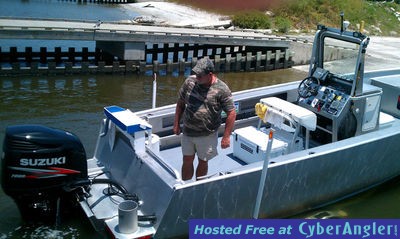 After missing 3 weeks, with a motor problem with the ole Honda. It was time for a change.
And the CHANGE is GOOD!
**MONSTER-SHARK ACTION
**MONSTER REDBASS ACTION
Summer means, kids out of school too. So I'm always busy doing my 2-Hr. Kids Trips for the Youngsters.


Hopefully, showing the next generation at a very early age. The joys of being on the water, and of fishing with family.

**Trolling the coast for Jacks, Spanish Macs, Blues.

**Bottom fishing for Jumbo Redbass

**Live baiting reefs (drift & chum)
**"Run & Gun" Shrimp boat fishing
VIDEO LINK: http://youtu.be/MCv5XDwXlgc


NO PROOF-NO GLORY!!!!!!!

8am-8pm eastern time
904-642-9546
www.captdaves.com
charter@captdaves.com
Departing Daily:
4870 Ocean St.
Atlantic Beach FL
32233
Advanced Reservations/deposit required:
Visa-M/C-Amex-PayPal-Discover
Since 1996, your "full-time" 12 months a year
Coastal sport fishing charter, Aboard the JETTYWOLF.
Jacksonville Fishing Forecast:

summer targeting of BIG FISH:
-River
-Reefs
-Shrimp boats
-Sport fishing
-Not a party boat
-Max. 4 persons
NO LONG BOAT RIDES.

Target Species:

Blacktips, Hammerheads, Spinner sharks & more...Redfish, Jacks, Spanish Macs, Black Drum.......
More Fishing Reports: