Fishing is Picking up out of Jupiter
Capt. Scott Collins
November 9, 2015
Jupiter - Saltwater Fishing Report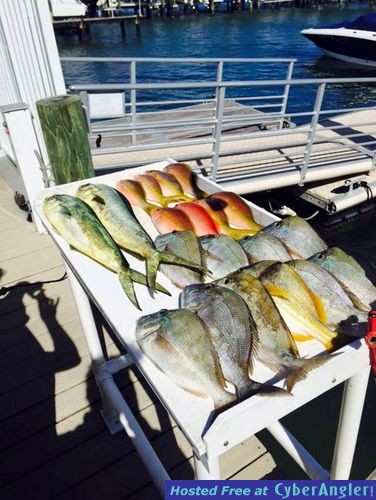 With this cooler weather and East winds Sailfish activity is picking up. We have been seeing free jumpers and had 2 releases last week. When you see good numbers of flying fish, its a sign your in the right area. The sailfish action has been in 70-300 feet of water, or depending on where the bait is.
Dolphin have still been thick on some days. We are still catching numbers of dolphin way out deep. There are a couple of stragglers around the ledge as well. The best ways to catch these sails and dolphin are: Kite fishing, Trolling, and Drifting.
The bite on the bottom has been hot! These fish are jumping on the hook! Around the bottom we are catching: yellow tails, vermillion, mangrove, and mutton snapper. We have also been catching tons of porgies, triggerfish, and amber jacks. Don't forget to measure the muttons! We are seeing a lot of 15 inch fish. Poke the swim bladder and get these shorts back in the water fast so they can survive.
Fishing on the beach is still hot for blue fish, Spanish mackerel, and massive jacks. It seems like the snook and tarpon action is moving inshore. Its November, sailfish season has officially started! To catch your sail call me 561-214-2271 or visit www.gettinluckyfishing.com. We can get you hooked up! See you on the water.
Capt. Scott Collins

Jupiter Fishing Forecast:

Sailfish action is picking up!
More Fishing Reports: