Sailfish, Kingfish, and Dolphin Great Summer Action!
Capt. Scott Collins
July 23, 2015
Jupiter - Saltwater Fishing Report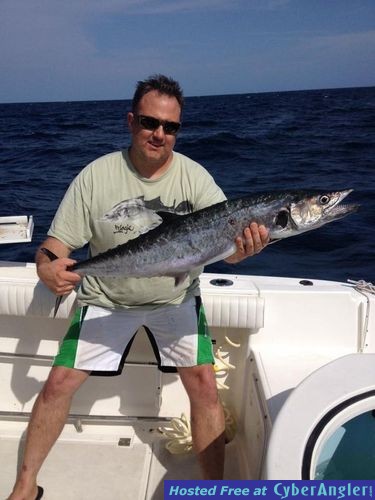 The fishing offshore has been hot literally. In the heat of summer we have been catching Kingfish, Dolphin, and Sailfish. Flat lining live baits in the right spot will put all these species in the boat. Look for schools of bait on the surface, around the ledge. These predators will be close by. Set up around one of these bait balls and wait for the drags to scream. From 200-1,000 feet there is a good trolling bite for blackfin tuna, and Dolphin. Find the right water and the fish are there.
It's been a blast on the bottom. Bottom fishing has been hot on days where the sharks aren't around. It's like these things come running when we hook a yellow tail or mutton. It's a mixed bag of Amberjacks, Kingfish, snappers, porgies, cobia, and trigger fish. To get on a mixed bag of fish, bottom fishing is the trip for you.
Fishing has been great, and will remain good throughout the summer. If you would like to get hooked up on a good time give me a call 561-214-2271 or visit www.gettinluckyfishing.com for charter information. We have a few open dates in August. See you on the water.
Capt. Scott Collins
Gettin Lucky Sportfishing
Jupiter Fishing Charters

Jupiter Fishing Forecast:

Dolphin fishing will improve as August comes
Target Species:

Sailfish, Dolphin, Kingfish
More Fishing Reports: