Awesome Wahoo Fishing off Key Largo!
Capt. Ryan Van Fleet
December 31, 2018
Key Largo - Saltwater Fishing Report

December was extremely busy for me. The weather for the most part cooperated. We utilized our Seakeeper 2 on every charter!
I wasn't happy with the deep reef results in early December so I shifted my focus to fishing the patch reefs for mutton snappers. I do usually do this in mid-late December and was glad I still stayed with that plan. The bigger mutton snappers move with ballyhoo and the inside patches were loaded with ballyhoo and big muttons. We caught mutton snappers up to 18 lbs. in 10 ft. of water with Dr. Bill.
This year I opted to give grouper fishing a break the week before Christmas. Why? I did not want to miss out on a red hot wahoo bite. We had a "winter superstorm coming". The pressure drop we were going to see was going to be big, similar to tropical storm. The big female wahoos eat when these conditions occur. We only see this type of winter storm in the Keys once maybe every 5 years. But when it aligns with a December full moon, you get what I call the "Perfect Wahoo Storm."

Russ from Canada has been fishing with me now for 5 years straight. Every year he has gotten shots at wahoo but they didn't stick. This year the fishing gods rewarded him with 3 big wahoo! Nice job Russ! Russ also caught several dolphin and blackfin tuna. Great trips and good to fish with him again this year.
On Christmas Eve, Pete (a super nice new client down from Boynton) chartered me with his two awesome sons. The weather turned sour and I got hit with the flu (great combo - right?). Cold north wind and wind against the tide on the patch reefs made it tough, lots of snagging. We pulled off a nice mutton and lost a few more. Later that trip, I pushed out to a deep water mutton snapper spot but the tide and swell were just awful. Not to mention we had 3 days of sustained west wind at 40 MPH, weird "winter cane" weather - nasty conditions. The guys were patient, and not being "back seat drivers". So thankful! The ocean warmed up just 2 degrees and that was enough to get the big yellowtails to bite that typically spawn on December full moon. I was lucky they had not spawned yet and managed to get the big ones to eat. I used a few "secrets" and also some tips I revealed in the June Florida Sportsman article.
Pete and his boys were happy we caught a mess of snappers before calling it day.
Pete's exact words were, "I knew when I booked with you that you were not the type to throw his hands up in the air and give up and blame the conditions like most would." He thanked me for not giving up and putting them on some nice fish in crappy conditions.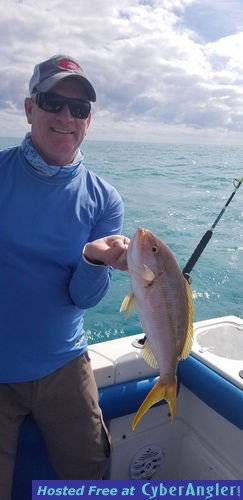 Thank you for taking the time and reading my fishing report. I welcome your comments or suggestions. You can email me at [email protected].

Check out my podcast on the Stitcher App, I Heart Radio or my website - Good Karma Sportfishing. It's free and hopefully good information.

Follow Me in Instagram:
www.instagram.com/goodkarmasportfishing_fl_keys/
Like Me on Facebook:
www.facebook.com/GoodKarmaFishingCharters/
Remember, anytime you're fishing "It's All Good."
Capt. Ryan
305-619-2126
Good Karma Sportfishing
http://tavernierfishingcharters.com/
More Fishing Reports: