December Brings Excellent Fishing for Wahoo and Snappers
Capt. Ryan Van Fleet
December 7, 2018
Key Largo - Saltwater Fishing Report

Fishing off Key Largo over the past couple weeks has been good in between the cool fronts. We are getting some nice Mutton Snappers and Groupers, but it has not been an on "fire bite". The water temperatures need to drop a little more to fire up the bottom fishing. We have a couple approaching cold fronts which will fire up the fishing the closer we get to the Christmas and New Year's Holiday. Grouper season closes on Jan 1.
Tavernier shallow water patch reef fishing is excellent right now especially on windy days! I love fishing inside the reef on windy days when we cannot get outside the reef, we have less fishing pressure and fishing can be very good. We are catching mutton snappers, mangrove snappers, porgies, tasty cero mackerels (taste like wahoo), sharks, hogfish, groupers and more. Great action on light tackle!
The Good Karma is equipped with a Seakeeper 2 gyro stabilization system perfect for those like like to light tackle fish on the patch reefs in the winter. If you have questions about patch reef fishing, just give me a call. Half day charters for patch reefs are recommended. You really don't need any more than a half day when when hitting the patches.
Wahoo fishing off Key Largo has been excellent! Over the past couple weeks we had numerous wahoo bites early in the morning and late in the day. I wahoo fished last week for 2 separate clients that were looking for that trophy fish. We got 2 bites and caught them both. One fish weighed in at 45 pounds and the second was 55 pounds. I do not high speed wahoo fish. I call high speed fishing "dragging and snagging", zero fun for clients and for me. You will get to fight these fish on light tackle. And wow its an epic fight when you hook a big one especially on a live bait rod matched with a small reel.
We caught a couple dolphin last week that swam up on us while Mutton Snapper fishing and getting a few Blackfin Tunas. We did get a "Jumbo" Blackfin Tuna last week as well while hunting for big Wahoo.
I had a couple of clients that wanted to reef fish for large Yellowtail Snapper. I specialize in targeting large Yellowtail Snappers for clients in all types of conditions using unique fishing techniques. A client must commit to at least 3 hours to get these type of fish in the month December. December can be just has good for big Yellowtail as it can be in March and April. Once the anchor is set and chum is in the water the process starts, patience is the key. Sometimes the fish show up right away and sometimes it takes a little while. After an hour or two into the Yellowtail fishing process, the big groupers and mutton snappers make an appearance in the chum slick. No patience, no shots at big fish just how it works.

The Kingfish bite is good this time of year, mixed in with the Kingfish are everything else. When you find the Kingfish you found the "magic area" for Sailfish, Tuna, Dolphin and Wahoo. Kingfish are fun fish for younger kids to battle!
I'm looking forward to fishing the last 3 weeks of December into the New Year's holiday.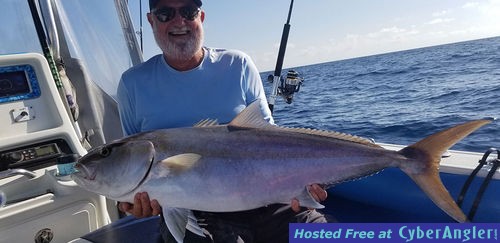 Thank you for taking the time and reading my fishing report. I welcome your comments or suggestions. You can email me at [email protected].

Also check out my podcast on the Stitcher App, I Heart Radio or my website - Good Karma Sportfishing. It's free and hopefully good information.

Follow Me in Instagram:
www.instagram.com/goodkarmasportfishing_fl_keys/
Like Me on Facebook:
www.facebook.com/GoodKarmaFishingCharters/
Remember, anytime you're fishing "It's All Good."
Capt. Ryan
305-619-2126
Good Karma Sportfishing
http://tavernierfishingcharters.com/
More Fishing Reports: