June Fishing at its best
Capt. Jeremy Mathis
June 12, 2015
Key Largo - Saltwater Fishing Report

June, the arrival of summer, some of the best fishing, and the beginning of the the best weather. I love this time of year as the fishing pandoras box is opened! The subsiding winds allows us to venture out to areas we typically can't reach and the areas we normally go to are gleaming with life! The most difficult part of your adventure will be which direction do we head.
The full moon fell over the first weekend in June and let me tell you, the bite was ridiculous. I had clients that I took out on a half day trip in May who wanted to fish in the evening, so I suggested they come back and take advantage of the moon. Extreme tides and strong water flow turned on the bite. We caught numerous Snook and Refish. We lost track after counting 5 of each. Every time the bait schools flushed out of the creek the fish would explode on the surface. What an exciting way to experience the full on feeding frenzy of these drag pullers.
I took my neighbor out 2 days later to see if the fish were still around. They were, but this time around it was more Redfish than Snook. In a 2 hour span we put 6 Redfish on the deck. They were eateing everything from live wigglers to fresh cut bait. These are such strong fish and its a totally different fight when you are fighting these guys in creeks compared to shallow water grass flats.
We made it offshore for the snapper bite last weekend. This is the time of year when the big Mangrove Snapper and Mutton Snapper are cruising the reef and rock piles looking for love! If you ever have the opportunity to fish this amazing event, DO IT!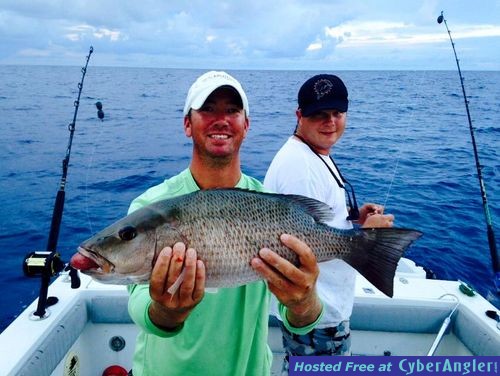 If you are thinking about heading to Key Largo, make your plans early and book your captain now. Give us a call or visit www.ankledeepadventures.com
Key Largo Fishing Forecast:

Calm winds opens up the opportunity to sneak offshore for dolphin, hit the reefs for grouper and snapper, and the backcountry flats fishing lights up. Take your pick and book a trip.
More Fishing Reports: