Key Largo Fishing
Capt. Jeremy Mathis
May 29, 2015
Key Largo - Saltwater Fishing Report

May has been red hot, doesn't matter if you have been inshore or offshore you should have been able to find dinner. I have been noticing some nice schools of mullet working along the backwaters of Key Largo which have proven to be a good go to bait when the pilchards disappear.
We got out last last week and the big jacks were everywhere. We had some fun fishing for them and managed to boat a beautiful Snook before calling it a day.
I then had a good friend and repeat client out 3 times this week. Our first trip, we took the bay boat out about 25 miles to the deep waters and loaded up with some fresh Mahi Mahi for the duration of his stay.

We then went out to hunt down some Tarpon which proved to be more challenging than expected. I had a great bite the night before and was excited to get them out but they were a noshow to the party. We moved spots and the young man landed a very respectable night time Snook.

On our final trip, we headed to the backwaters of Key Largo / Flamingo. We had some really nice weather and the fish came out to play! We had a nice bite early in the morning of some nice size Snook.

We moved spots when the bite slowed down and found ourselves surround by hungry takers. First fish was a Snook.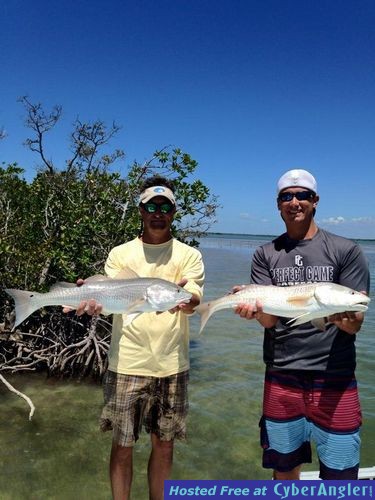 Then we got into some nice Redfish that we spotted actually jumping out of the water chasing baits. It was incredible.
We ended the day with another nice Snook and headed back to the dock by noon! Job well done guys.
My final group came out and had some fun with a variety of fish. The caught Snapper, Jacks, Trout until we were content. We moved spots and in the middle of me explaining what the fish were most likely going to do the first rod got hit. It was another Snook that popped off in the mangrove roots. Almost immediately after we had this one on and boated.
Come down to Key Largo and book you Ankle Deep Fishing Adventure.
Key Largo Fishing Forecast:

The summer months hold all kinds of fish. Winds become calm and the fish are hungry. Name your species and come get em!
More Fishing Reports: