March Madness Florida Keys Style!
Capt. Ryan Van Fleet
March 14, 2019
Key Largo - Saltwater Fishing Report

This time of year people get excited when they see posts on Instagram with dolphin being caught. But it's important to keep in mind the fish you are seeing are being caught when it is blows 15-20 mph! When the fish arrive in good numbers I will let you know. I open up my dolphin season every year the first week in April. I encourage clients in early April "to keep the dolphin honest" meaning give it a try. I have caught several large dolphin in the first 2-3 weeks of April just by keeping them honest. Big game fishing requires taking the time to hunt for them. I encourage clients to give me the chance to hunt if they wish to catch a big dolphin this spring and summer.
About my charter…I just don't take people dolphin fishing and troll them around because the rest of the charter fleet is dolphin fishing. With me you get personalized service. Over the course of the years I have changed my charter program based on feedback from my clients. A lot have things have changed over the course of the years. Every day I work on making things better for clients. I ask a lot of questions before I take you fishing. If trolling is not for you then I won't take you trolling and vice versa. If the weather is crap I give you options. If you don't like the fishing options we don't go. I also don't waste your charter time and money bait fishing.
You are paying money to go fishing, not bait fishing. I work hard to have all the bait ready before you arrive and in the live well. I am very picky about the bait we use so it is hand selected. Sometimes I cannot provide it because of weather and sea conditions prior to your charter so expectations need to be fair and realistic. I just heard another horror story from a new client this past week about a charter fishing operation in Islamorada that spent 2 hours looking for bait. Then charged the client a full day rate that included the time bait fishing! The look on my new clients face was priceless when he glanced in the live well and saw 5 dozen large pilchards and a couple dozen goggle eyes ready for him before we left the dock. If you planning a charter fishing trip to the Florida Keys or anywhere in the world I encourage to you to listen to my Episode 016: How to Book a Fishing Charter https://tavernierfishingcharters.com/episode-016-tips-on-how-to-book-a-fishing-charter/
Key Largo Fishing Charters African Pompano
We have been catching piles of nice Yellowtail Snappers, delicious tasting Mutton Snappers, Wahoo, Amberjacks and African Pompanos.
Tavernier Fishing Charters; Learn Tips and Tricks for catching more wahoo
We have not done much fishing pelagic species (wahoo, dolphin, tuna, sailfish) as the wind has been cranking and to be honest a lot of my clients are not wanting to troll. They want the delicious tasting Yellowtail and Mutton Snapper!
I love targeting Mutton Snappers for clients. These fish are awesome and not to mention a favorite and super easy fish to marinade and put on the grill. It also tastes great re-heated which is something we don't normally do.
My wife travels for work and for Christmas she had asked for a "Pink" Yeti so when she is on the road she can stop at places we don't have here in The Keys and pick up some different food. In her "Adventures of the Pink Yeti", some her favorite places are Trader Joes and Whole Foods.
Key Largo Fishing Charters How to catch Mutton Snappers
Reef and Wreck Key Largo Fishing Charters for Mutton Snappers and Groupers
Ingredients and Directions for Mutton Snapper:
- Mutton Snapper- de-boned and de-veined
- Soy-Aki from Trader Joe's
Sides:
- Alexia Truffle Fries- Available at Whole Foods
- Seeds of Change Quinoa- Favorite with Garlic
Marinate for a few hours and place right on the grill (we have a Green Egg which we highly recommend). Cook time about 15-20 minutes.
Key Largo, Tavernier and Islamorada Fishing Reports-Fishing Tips and Tricks
The Yellowtail Snapper fishing has been spectacular for March! Usually in March the Yellowtail Snapper fishing can be kinda slow, but this year the water temperatures have warmed up quickly so the Yellowtails have moved in early. Yellowtail Snappers are delicious. Clients have been asking for an easy Yellowtail Snapper recipe they could make themselves in their condo. This is a personal favorite. My wife and I would definitely say this is restaurant quality and very easy!
Ingredients and Directions for Yellow Tail Snapper:
-Pan with side- 8 x 11 x 1 ½ (approximate will work)
-Yellow Tail (uncooked)
-2 Tomatoes
-Stick of Butter
-1/2 cup Olive Oil
-Garlic Powder
-Parmesan Bread Crumbs
-Pour Olive Oil in bottom of pan along with butter cut into small sized pads
-Layer slices of Tomatoes in the butter and olive oil
-Sprinkle with Garlic Powder
-Coat Yellow Tail with Bread Crumbs (I only do the bread crumbs on top as to not over power the fish) and sprinkle some Garlic Powder
-Cover with Tin Foil
-Bake on 350-375 about 20-25 minutes (check- so you don't overcook as oven times vary)
Yellowtail fishing with the Seakeeper on is comparable to fishing on a rock in the middle of the ocean, you have to fish on my boat to believe it, but the non-believers quickly turn into believers in a 3-4ft sea at anchor or when a 53ft sport boat attempts to wake us off the hook and we watch the waves go around the boat.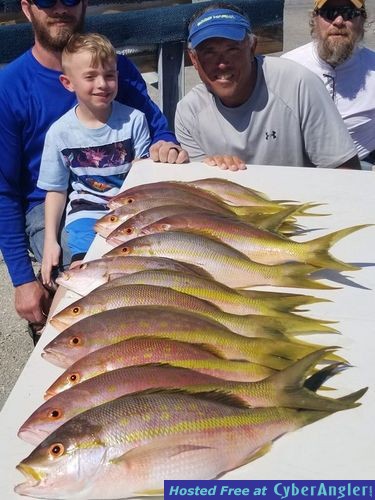 Islamorada, Key Largo and Tavernier Deep Drop Fishing Charters Options-"New"
This month I will be adding deep drop fishing back into the charter fishing program as an option for clients. Clients will get to use the new Shimano Beast Master 9000 electric reel matched with an Adrenaline Custom Fishing Bent Butt Fishing rod, if you wish to manually crank you do so as well with a 2-Speed Shimano Talica 50. I will be offering options to target Golden Tile Fish and Barrel Fish in the Spring and maybe a Queen Snapper if they are around. Remember we are fishing from depths 600-1500 ft so manual cranking will slow the process down when retrieve the weight, but if you to crank on the fish and fight him that will be up to you!
The best time for targeting Golden Tile Fish in the Florida Keys is March and April. The current and conditions must be right for deep dropping, but this year more than ever I am looking forward to deep dropping comfortably using the Seakeeper!
My calendar is booking up very quickly- please feel free to reach out if you interested in booking a charter.
If you're an "Instagram Fisherman" or "Facebook Fisherman" or waiting for my fishing reports or weather updates, I highly recommend just going with your "instinct" like a good angler does and just plan a fishing trip. "Cyberfishing" and "High Expectations" can only burn you. The guys that have the best luck fishing with me just plan a fishing trip and let me take care of the rest and I appreciate that!
Thank you for taking the time and reading my fishing report. I welcome your comments or suggestions. You can email me at [email protected].
Check out my podcast on the Stitcher App, I Heart Radio or my website – Good Karma Sportfishing. It's free and hopefully good information.
Follow Me in Instagram:
www.instagram.com/goodkarmasportfishing_fl_keys/
Like Me on Facebook:
www.facebook.com/GoodKarmaFishingCharters/
Remember, anytime you're fishing "It's All Good."
Capt. Ryan
305-619-2126
Good Karma Sportfishing
http://tavernierfishingcharters.com/
More Fishing Reports: