October Brings Excellent Fishing
Capt. Ryan Van Fleet
October 11, 2018
Key Largo - Saltwater Fishing Report

The awesome fishing continues off Tavernier and Key Largo! Since my last report nothing much has changed. The fishing just keeps getting better and better. But before I launch into that, I want to share some news and lodging tips that may save you some money on your next visit.
AND - Make sure you check out my podcast. I cover a variety of off shore fishing topics - sharing my stories and tips. This week (Wed) will be Episode 11. I talk about Mutton Fishing which I figured out when the dolphin fishing was very tough a few years ago. Speaking to the public has never been a strength of mine. I have always been kinda quiet and shy but I am working on getting better each episode. Thank you if you have been tuning in, I really appreciate it! You can find Good Karma Sportfishing Podcast on Stitcher, iHeart Radio and my website (www.goodkarmasportfishing.com) It's Free. And would love to hear feedback or suggestions so please email me. [email protected]
The Good Karma has new Seadek!
Special shout out to Xact Customs (www.xactcustoms.com) for doing a kick butt job on our new Seadek floor! Clients have had nothing but good things to say about fishing on our Seadek floor. So about every 2 years as part of our preventative maintenance program we lay down new Seadek. Seadek combined with a Seakeeper (www.seakeeper.com) provide our clients with the absolute best fishing platform.
Under $100 a Night Motels/Hotels in the Florida Keys
I often get asked, "Are there any places to stay for $100.00 a night or less in Key Largo or Islamorada" Listed below are 2 Motels located in Key Largo and Islamorada. Clients who have fished with me in the past have stayed at these locations. If you are feeling adventurous (and on a budget) check them out. Info below:
Key Largo
Ed and Ellens Lodgings
103365 Overseas Highway
Key Largo, FL 33070
Phone: 1 888 ED Ellen
https://ed-ellens-lodgings.com/
Islamorada
Sunset Inn
82200 Overseas Highway
Islamorada, FL 33036
305-664-3454
www.sunsetinnkeys.com
So What's Biting?
The nights are cooling down and so are the ocean water temperatures. I am really looking forward to fishing over the next couple months. Our dolphin fishery this fall is probably one of the best we have seen in years. One theory is that Hurricane Leslie has pushed masses of Dolphin fish south already with big mats of Sargassum weed.
On a recent charter with Mike we ventured further offshore looking for Blue Marlin and Dolphin. 2 summers ago, I caught and released my first Blue Marlin off Key Largo on the July full Moon. I had not seen another Blue Marlin since then until Mike's charter. The Marlin ate the long center bait. I saw it come in on the bait and miss it! Then I dropped the bait back to the Marlin, and he destroyed it! He jumped a few times then spit it out! What a great show he gave us. Full moon phases in the early and late Summer are very good times to target Blue Marlin.
Mike got his limit of gaffer size dolphin on his charter that all weighed between 10-15 lbs. We then finished up the day catching Vermilion Snappers. Nice.
Along the reef we are using live bait to target Mutton Snappers, Red Groupers, Vermilion Snappers, Yellow Eye Snappers and one of my top five favorite fish the African Pompano. The African Pompano is just an awesome fish, but extremely hard to catch. I have been working on getting this fish dialed in over the course of the years and now starting to see the results of hard work. These fish are extremely good to eat either raw or cooked.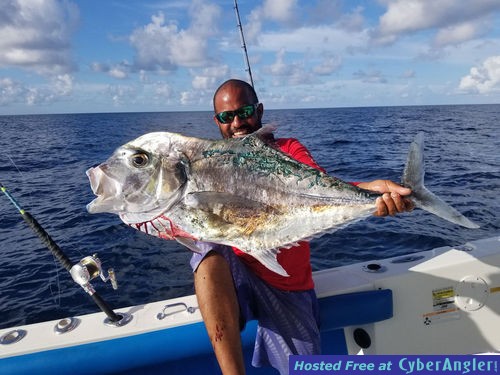 Other delicious snappers species we can target besides Yellowtail and Muttons are the Vermilion or Yellow Eye Snapper. These fish look and taste awesome. Especially since we catch them in the deeper water off the Florida Keys. We use set ups called chickens rigs. These rigs have multiple hooks therefore we can catch multiple fish on one drop. These fish taste amazing. They have nice white meat and in my opinion rank above the Yellowtail Snapper as far as table fare. With Yellow Eye Snapper being the absolute best! Always good to have a plan b when it comes to bottom fishing. You can fill the box quickly if these fish are biting which means you get some tasty fillets - enjoy!
Other happy clients with plenty of meat to take home.
Oct-December Fishing Forecast
Yellowtail Snapper Fishing will get really good as the water temperatures continue to the cool down. We will start seeing the Black Groupers start moving in along the reef. I do not use heavy tackle when I target Black Grouper along the reef. So what you see on those fishing shows will not be what you get when you fish with me for Black Grouper. We use extremely light weight fishing rods built by Adrenaline Custom Rods (www.adrenalinecustomrods.com) matched with one of the best spinning reels on the planet, the Shimano Twin Power 8000. I will be talking about targeting Black Groupers in a future podcast, so stay tuned. We will start seeing the larger Black Groupers move closer to the reef as the water temperatures cool down.
I will begin patch reef fishing as we get closer to the Thanksgiving Holiday. The water temperatures need to cool down for this type of fishing to provide quality action. I anchor in shallow water (10-15ft) on days when the wind will not allow us to fish the deep reef or beyond. We use ultra light tackle to target fish like Mutton Snappers and Cero Mackerels. shallow patch reefs of water and gorge on the bait fish.
So what most of you have been waiting for me to talk about is the Pelagics (wahoo, dolphin, tuna, sailfish, kingfish) I have three words and three words only for the Pelagic forecast "Should Be Good". In other words whether its with me or another captain down here I would look at booking/ making a reservation sooner than later. Sage advice.
I want to end this on a light hearted story that I hope relates to fishing and just being in a good place. I was having brunch at the Cheeca Lodge in Islamorada (www.cheeca.com) this past Sunday w/ my wife, her dad and his fiance. After brunch we walked the pier to see what's going on and walk off some bacon. As we were walking back towards shore I heard "I got one! I got one!" Of course I had to check it out. This young boy who was probably only 4-5 years old was so excited that he caught something so everyone was gathered around to see what he caught. But as I was looking I didn't see any fish getting reeled in. Instead then to my amazement he was holding up a wade of sea weed and smiling ear to ear. This little boy was so happy that he caught "something!" And everyone on the pier was happy for him! Just goes to show you that anytime your fishing "It's All Good".
Follow Me in Instagram:
www.instagram.com/goodkarmasportfishing_fl_keys/
Like Me on Facebook:
www.facebook.com/GoodKarmaFishingCharters/
Remember anytime your fishing "It's All Good."
Capt. Ryan
305-619-2126
Good Karma Sportfishing
https://tavernierfishingcharters.com/

More Fishing Reports: