Anglers Keeping Busy in Key West
Capt. Richard Houde
July 14, 2017
Key West - Saltwater Fishing Report

INSHORE: Weather and the fish have been cooperating in the waters off Key West. Inshore, there has been fantastic action for the folks on half day trips with more bonitos than most people can handle. Bonitos are a member of the Tuna family, but unfortunately, while not considered good to eat, they do put up a great fight and are a lot of fun on trips with time constraints like a half day charter.
There have been a few "keeper" dolphin caught inshore amoung the Bonitos as well as an occassional Black Fin Tuna, some nice Cero Mackerel and Kingfish. The nice thing about this is that we are usually getting enough "dinner" fish to go with the non-stop action on the shorter half day trips.
OFFSHORE: Still some Mahi around. Mostly small school sized fish, but enough to keep customers happy on 3/4 and full day trips. A couple boats still finding the occassional big Bull or Cow out near the drop or around debris. Not much week being found so most of the fish are under birds.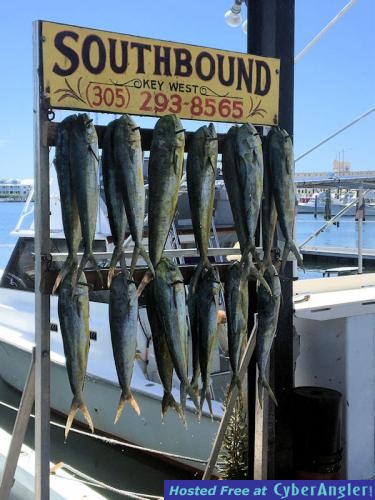 Blue and White Marlin have been hooked/caught in unusually large numbers for this area. Great to see this level of activity. Upcoming KW Marlin Tournament should be excellent this year. I'm not fishing it, but I'm looking forward to seeing the results.
More Fishing Reports: