Fall Bonefish Run
Capt. Dexter Simmons
September 23, 2021
Key West - Saltwater Fishing Report

There are times when the Bonefishing in the Keys becomes better and better and better. This is one of those times. Schools of feeding Bones are found on shallow flats during low falling or low incoming tides. Often they will be tailing if the water is low enough, but more often you will see the "push" or wake of water as the school swims against the tide. If they are moving slowly and steadily, then they are happy, feeding fish and you have a good chance for a hook-up with a well-placed cast.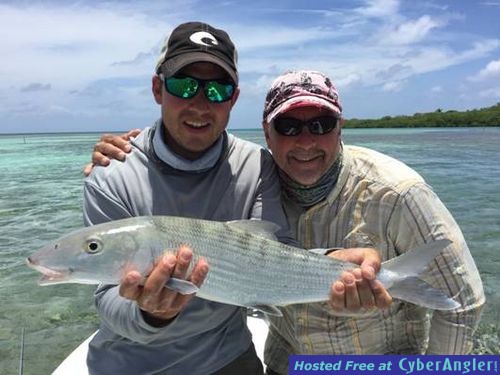 Sometimes during fall mornings the weather conditions are calm, cool and a bit cloudy or foggy. The Bonefish may exhibit behavior that is different than the norm. You might seem them slurping on the surface. This behavior indicates that they are sucking in air to fill their air bladders in anticipation of migrating into their deep water spawning grounds.
Bonefish spawning occurs between the fall and spring months. During this time the schools are migrating to and from their deep water spawning grounds. The tendency to find the large schools of Bonefish is most prevalent during these times. So if you or your guide can't find the schools of Bonefish, then they are most likely offshore spawning.
Dr. Ross Boucek of the Bonefish Tarpon Trust is doing extensive research on this subject. To learn more about Bonefish spawning migrations and behavior you may visit the BTT website (BTT.org).
Key West Fishing Forecast:

Excellent for Bonefish, good for resident baby Tarpon, fair to good for Permit, Barracuda.
Target Species:

Bonefish, Tarpon, Permit, Barracuda
More Fishing Reports: