Tarpon and Permit migrate into Keys waters!
Capt. Dexter Simmons
February 17, 2009
Key West - Saltwater Fishing Report

The Fishing Report. Feb. 17, 2009. Tarpon and Permit migrate into Keys waters!
During the past few weeks we have seen a strong influx of migrating Tarpon and Permit making their way into Keys channels and flats. This is a 60 pounder landed around Key West during February by Dawna.
Nic caught this nice Permit on the gulf side flats.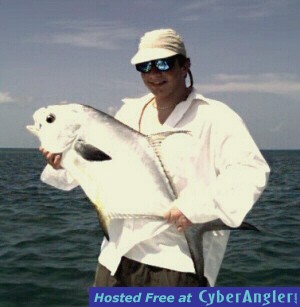 As the waters warm up into the mid to high 70's in between cold fronts, more waves of Tarpon and Permit should be showing. Bonefish have been available on the Atlantic flats during the warm ups in between cold fronts, and with the water warming into the upper 70's the Bones will migrate back into the Gulf flats as well. Here is a nice February Bonefish taken by Dawna's friend Chris.
Our Father (Mother) - Son (Daughter) Key West Flats Fishing Trips are now scheduled for throughout the winter,spring, summer and fall.
For more information about the Father and Son Flats Fishing Trips go to www.keywestflyfishing.com/fatherandson.htm
Once again, you may contact Capt. Dexter Simmons for a future fishing charter on his TOLL FREE CHARTER HOTLINE: 877-FISH052 (877-3474052) ///// or at 305-745-3304 or by email at captdexter@prodigy.net

Key West Fishing Forecast:

Tarpon, Permit and Bonefish action should continue to improve with late winter, early spring warm up period.
Target Species:

Tarpon, Bonefish, Permit
More Fishing Reports: