Middle Keys Report 12.4.12
Capt. Jason Long
December 4, 2012
Marathon - Saltwater Fishing Report

By: www.bestbetsportfishing.com
When looking at the Florida Keys fishing forecast don't just focus on the wind speed. Wind direction also plays an important role in determining if the seas are going to be calm or rough. Last week, despite several days where it blew over 20 miles-per-hour, conditions were extremely fishable in the Middle Keys, both offshore and on the reef. This was due to the winds being out of the north/northeast, a direction in which the islands offer protection and help to keep the seas down out in the Atlantic. So remember, don't pack up the rods if you see a forecast calling for it to be a little windy. Do your research, and base your trip on the wind direction as well.
Even though we're into the second week of December we still haven't had a major cold front yet. This means that many of our November fishing trends are carrying over to this month as well. This includes the excellent dolphin (mahi mahi) fishing that continues throughout the islands. In the Middle Keys, we're seeing lots of fish in 100 to 300 feet of water, scattered on current edges and tight weed lines. Most of the fish are large schoolies and gaffers averaging five to ten pounds, but there have been a few slammers in the mix as well. Trolling artificial lures has produced excellent results, in addition to slow trolling live baits.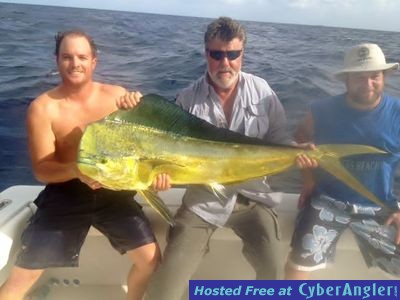 (Captain Mike Nelis had to swim down fifteen feet to gaff this stubborn dolphin that would not budge after a 1 ½-hour fight!)
One great thing about the mahi being in close is that you don't have to dedicate an entire day to targeting them if they're not around. Spend 45 minutes tacking back and forth in 100 to 500 feet of water, and if you don't see the fish, move back into the reef, drop on some wrecks, or put out a spread to try and raise a sailfish. Since you don't have to run 30 miles to find the fish, you're not pot committed to fish for dolphin only.
Speaking of sailfish, we're seeing more and more fish every day, and the numbers should increase substantially when we get our first real cold front. Look for your sails on current edges, as well as in shallow in the sand.
On the reef, the cero mackerel bite is red hot, providing excellent light tackle action for all ages. We like to target ceros on 12-pound test, using a live pilchard on a #3 wire. Also on the reef, the yellowtail snapper bite has turned back on. Conditions have been favorable with the wind and current working together, and we've had nice catches of flags on the deep reef, and big patch tails on the shallower reefs as well. When fishing the deep reef also keep an eye out for schools of yellowjacks. We caught several last week that we chummed up with live pilchards. Yellowjacks are a lot of fun to catch, and quite tasty as well.
Last but not least, the mangrove snapper bite continues to be fantastic. Fish the reef from 20 to 40 feet of water, or stay in close and fish the bridges where the mangroves are really beginning to stack up.
You Best Bet for the Week Ahead: Give the Gift of Fishing!
Christmas is just a few weeks away and there's no better gift for anglers than a fishing trip in the Florida Keys. Book your trip today by calling 305.395.1376, and celebrate the Holidays on the water with your friends and family! Gift certificates available. PayPal and credit cards accepted.
More Fishing Reports: