What a birthday gift!
Capt. Mo Estevez
May 3, 2022
Miami - Saltwater Fishing Report

Brandon lives in Florida and it was his birthday today. His goal was to catch a bonefish. See, he has been to the Florida Keys a bunch trying to catch bonefish, striking out each time. However, he did get a monster permit on one of those trips. Anyway, the day was beautiful but the wind was doing April wind stuff, blowing 20 MPH. I took him to a reliable bonefish flat and worked the flat being careful to deal with the wind and tide correctly to provide him with the best chance. Well, it happened! He hooked up and got a nice bonefish. Yes! Brandon and I both needed a day like today. A bit later he hooked a second fish and this one was about 10 pounds but came off during one of the really fast and long runs. We both wish he would have landed that second fish but hey, it's bonefishing and the mission was accomplished. YES!
Capt. Mo Estevez
http://www.miamibonefishing.com/
786-853-1409
Follow me on Instagram @MiamiBonefishing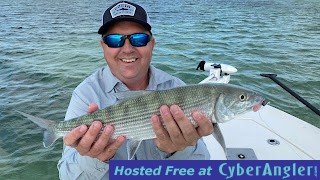 Target Species:

Bonefish
More Fishing Reports: