December Fishing Report and Winter Forecast
Capt. Wayne Conn
December 8, 2016
Miami - Saltwater Fishing Report

Its official, summer is finally gone! It has been wonderfully refreshing to get up in the morning with temperatures in the high 60's to low 70's. Even though we've had only a few fronts, we've had winter-like high pressure areas stay with us, creating high seas and rough water as they pass, as well as driving migratory species our way. This fishing should continue well into April!!
Spanish mackerel are in abundance right now. Trolling with small feathers or spoons in shallow water, 15 to 40 deep or so will get you all the Spanish mackerel you want. Stop trolling when you have a fish on and cast with light tackle or fly rods for a real treat! There aren't many fish that are more fun than mackerel on light tackle. Remember to plan your mackerel fishing around the outgoing tide, as it is the best for them.
The past September through November has been the BEST sail fishing fall period that I've seen in years, and it continues into December. Our half day trips are routinely catching sailfish even on dead baits, although live baits fished either under a kite or on flat lines usually results in more hookups.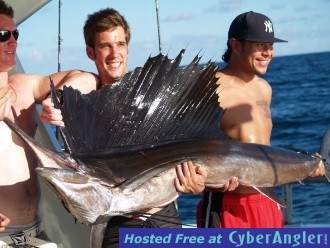 The passing high pressure zones that make the wind blow like crazy from the North to Northeast quadrants results in dolphin appearing in our coastal waters. To catch them all that is necessary is to get outside the reef (deeper than 100 ft) put out small trollers and start fishing. Following any weed line or current rip AND looking for bird activity will guarantee success. These fish are moving south at a good clip, so when you find birds head to the North side of the activity. Schools of dolphin have been showing up frequently as our Reward Fleet boats are on the drift, moving with the wind and current.
Blackfin tuna also are around, but in smaller sizes than the spring. On the Reward Fleet we catch them using small trolling lures while moving between drifts, and have had great success with vertical jigs while we are on the drift.
Black and Gag grouper are next on the list, with more of them around than in recent years. The best way to catch on is to keep a deep running large plug out while trolling the inside reefs for mackerel. By the way, this should be on your heaviest tackle, at least 50 lb. You'll know why when a nice black hits and threatens to rip out your rod holder! Another method is to drop live pinfish on wrecks and ledges with the same tackle. Use enough lead, even up to 2 lbs to get it down there. The local spots can be found online, just type in "Dade county artificial reef sites" and figure it out from there.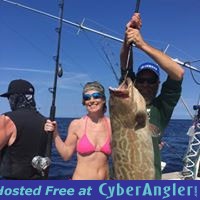 Night fishing on the Reward Fleet has been phenomenal lately! Our scheduled trip time is now 8pm-1am, every night except Monday. Captain Ryan and Captain Steve with mate Bernie report awesome catches of yellowtail, mutton and mangrove snapper in near limit numbers nightly. We are happy to provide 20 lb spinning tackle, circle hooks, and a variety of baits including squid, ballyhoo, sardines, and silversides at no additional charge. Check out this snapper catch last week!
This is a great time to get out on a party boat, as it's the most economical way to fish offshore. Check out www.fishingmiami.com for more information, and join us on one of our special jigging or 12 hour trips.
Mention this article, and you will get a $5 discount on your next trip for yourself as well as everyone in your party!
Captain Wayne Conn
Reward Fishing Fleet
www.fishingmiami.com
305-372-9470

More Fishing Reports: