Erin's Fishing Trip
Capt. John Barker
August 26, 2021
Miami - Saltwater Fishing Report

Erin booked the Blue Waters 2 for a fun 6-hour family fishing trip. The first picture features the boat on the way out - the Ferris Wheel is the new attraction for the Bayside Mall.
One of the first bites was a mahi-mahi which was quickly photographed and released. The offshore bite was very slow so Captain John trolled back to the edge and was rewarded with a double header of wahoo. The first wahoo was captured on a sea witch and bonito strip on the planer. This wahoo was successfully boated. The second fish was hooked on a 3-1/2 drone spoon. The fish put up quite fight and 12' from the boat, his sharp teeth bit thru the leader and he swam away. The group took a photo to show off their catch and vowed to be back for the spring break bite.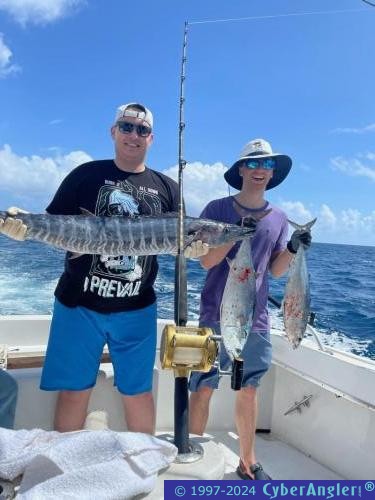 Fall Sailfishing should start soon along with large single mahi-mahi. Contact us directly to get the free beverage order with your trip.
Captain John Barker
Blue Waters 2
305-373-5016
www.fishingmiami.net
More Fishing Reports: