Fishing the Carolinas
Capt. Bouncer Smith
October 22, 2021
Miami - Saltwater Fishing Report

I've had a great week in South Carolina.
I started out fishing with Captain Buddy Smith. He works for Captain Smiley Fishing Charters out of Little River, South Carolina.
We targeted bull redfish with live mullet and cut bait. We started a little slow although we were getting a few good bites. I bring my own tackle and my line kept getting cut by oyster shells on the bottom.
I finally caught a real nice bull redfish on Buddy's tackle and then a nice 19 inch flounder on half a cut moss bunker. The flounder was put on ice , but all redfish over 23 inches must be released.
By the time my half day was over I had caught 9 bull redfish from 32 to 40 inches.
After removing the 20 pound braid top shot on my reel, I had no problem landing these beautiful bull redfish on my Penn low profile Fathom reel with 30 pound braid.
Next I relocated to Murrells Inlet South Carolina. Here I met up with Chris Conklin. Phil Conklin and I fished together 50 years ago out of the Castaway motel in North Miami Beach. Phil moved to Murrells Inlet, started a fish market and a family with Billi and now I have fished with Chris 3 visits this summer.
The first day we fished with captain Jimmy Dever and we caught bonito on fly and 8 pound spin tackle, Spanish mackerel, bluefish, weakfish, black sea bass, sharks and small gag groupers.
The second day we fished with captain Chris Reagan and went offshore and caught big amberjacks, scared some mahi as they escaped near the boat, caught Spanish mackerel, numerous black sea bass, cobia, big and small sharks and a limit of king mackerel to 31 pounds.
Chris had to work Friday, so his mother, Billi, and I went with Chris Reagan. Without our lucky charm, Chris Conklin, we only caught big stingrays and toad fish. We saw some monster redfish caught on surrounding boats.
Yesterday we took Chris' 5 year old son, Christopher, on his first fishing trip. The little guy caught 20 fish including croaker, pinfish, pigfish, blowfish, ribbon fish and a shark . What a fun trip!
Tomorrow I'm off to Morehead North Carolina for more fishing. If your ever in Murrells Inlet be sure to get some fresh seafood and desserts at Seven Seas Seafood.
Capt. Bouncer Smith
305-439-2475
www.captbouncer.com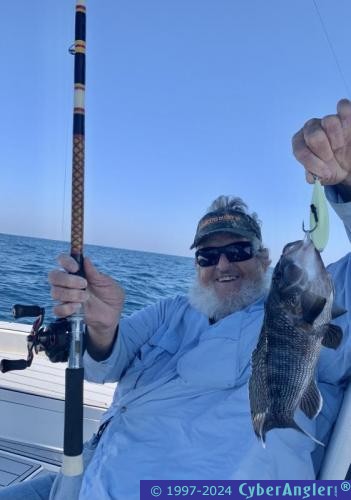 More Fishing Reports: