That didn't take long!
Capt. Mo Estevez
December 29, 2021
Miami - Saltwater Fishing Report

After a slow week last week that I could hardly stomach I had the weekend off and patiently waited for my Monday trip with Jim in order to see if fishing had improved and find some kind of redemption. So, Jim jumps in the boat and off we go. Jim wanted to fly fish but with steady 20 MPH winds that would be difficult so Jim was smart enough to decide to pick up a spinning rod at the beginning of the trip and we targeted bonefish. Well, it didn't take long for Jim to tie in to a nice bonefish and enjoy the blazing fast runs. After a release he was at it again and not 10 minutes later he was on again! Another release and he was ready for something else. I took him to a tarpon spot that was void of tarpon so off to a snook spot that had no snook but had tarpon, go figure. He tossed flies at the 3-40lb rolling tarpon but after a period of no bites we wrapped up the trip catching jacks on fly and he had a blast. It's tough not enjoying jacks on fly. Whew, I can sleep better tonight!
Capt. Mo Estevez
http://www.miamibonefishing.com/
786-853-1409
Follow me on Instagram @MiamiBonefishing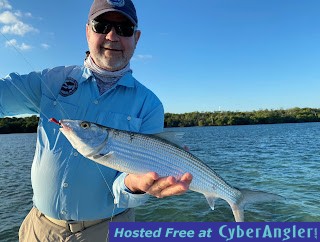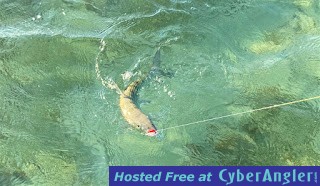 Target Species:

Bonefish
More Fishing Reports: