May Fishing Report - Miami, Florida
Capt. Dave Kostyo
May 26, 2016
Miami - Saltwater Fishing Report

The month of May has traditionally been an outstanding month to catch a variety of species. So far this May the month has lived up to expectations.
The first part of May we saw good mahi/dolphin fishing for various size fish. The fish were found in depths ranging from 120 to 800 feet. Most of the mahi were caught under frigate birds, with a few found on weed lines.
The blackfin tuna showed up in very good numbers as well as size. The best action has been late afternoon from 4:00 - 7:00 PM. Fishing from 205 feet in to 100 feet and heavy chumming with pilchards and herring have gotten the blackfins in a feeding frenzy.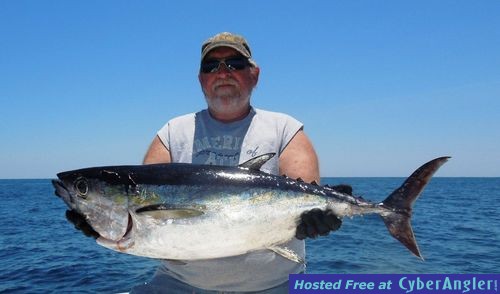 Once a blackfin is hooked, do your best to put plenty of pressure on the fish to get it to the boat as quickly as possible. The reason is that there are also plenty of big sharks, hammerheads and bulls, that want an easy meal. If you're lucky, you'll get part of your tuna and the shark or sharks will get the rest.
Don't forget to put a mid-depth and bottom rod down as the tunas will hit the mid-depth rod. The bottom rod has been catching mutton snapper, kingfish, and grouper.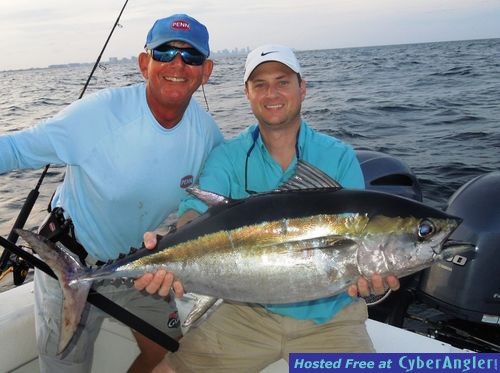 The latter part of the month has seen a decline in the mahi, however, they should make a quick rebound with the east wind that has been blowing the past couple of days.
Blackfin tuna fishing will continue to be good into June. With calmer weather becoming more common, it makes for better running and gunning for the mahi/dolphin.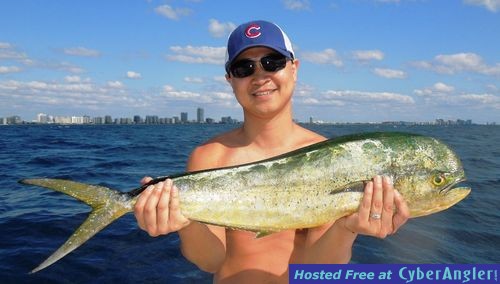 Watch for my next report for the latest on tarpon fishing. It's gotten a whole lot better.
Captain Dave Kostyo
Knot Nancy Fishing Charters
305-965-9454
nkostyo@bellsouth.net
www.knotnancy.com
More Fishing Reports: