Miami Back Country Peacock Bass and more report...
Capt. Tony Fowler
February 12, 2014
Miami - Freshwater Fishing Report

Good news for the Miami area Peacock bass fishing enthusiast! Peacock Bass are being caught in good numbers in the southern inland systems, and lakes as well. With still a mix of Lg. Mouth Bass, Snook, baby Tarpon,and a few fresh water Jack Crevalles being landed too.
This is has to be one of the best times of year to fish for the beautiful Peacock Bass, and to land a big one too.
Most days the weather has been very pleasant with temps reaching the low 80"s, which is keeping water temps very comfortable for these fresh water brutes. I was fortunate enough to take out a couple of clients on days that were absolutely perfect. Coming from up north, it needless to say they were very pleased with our weather...and catching a bunch of fish doesn't hurt either..lol. Everybody went home with fond memories, and big smiles.
My first trip was with solo angler Cory from Toronto, who came down on business. He's an avid freshwater angler up north, and wanted to sample some of our tropical species...mainly Peacock Bass. We meet at the ramp, went through our safety talk, and headed off. Boy!!.. did he have a hot hand!! It was literally about 40 minutes before he had his first freshwater SLAM. Landing Peacock Bass, a Snook, and large mouth bass, all on artificials. Now that's what I'm talking about!!

On our second outing I had the pleasure to meet up with a very pleasant couple from Oklahoma. Newlyweds Cam,and his wife MiLann we're down here for their Honeymoon enjoying our weather. They informed me that had read and heard stories about how hard Peacock Bass fight compared to other freshwater fish. They were about to find out. MiLann was the first to score and proceeded to quickly outpace Cam ... she was using live bait. Cam not to be out done started his comeback and caught up quickly using small swimbaits, and minnow like lures. It was a blast out there with them. Oh..did I mention they both caught SLAMS(catching three or more game fish species) during their day of fishing. Once again smiles all around!

Thank you for taking the time to read our reports. As always I look forward to the next.
Capt. Tony (305) 775-1136
www.miamibackcountrycharters.com/

Cory from Toronto's first ever Peacock Bass.

Cam & Milann from Ok.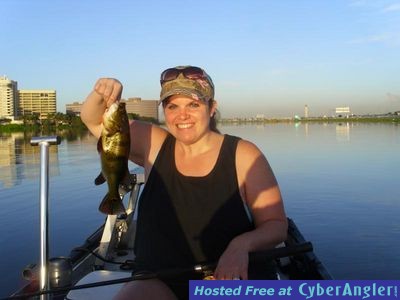 Target Species:

Peacock bass Tarpon Snook large mouth bass
More Fishing Reports: