Miami Peacock Bass Report
Capt. Tony Fowler
April 29, 2014
Miami - Freshwater Fishing Report

I had the pleasure of taking a couple of old friends/clients out for a half day of Peacock bass fishing. We've fished together before,and picked up where we left off...in the fish. Jerry and, Eric caught their fill of Peacock bass, and then some.
They also landed probably one of the biggest Chiclids I've ever seen in the canals systems. Pushing 4 lbs. that one and fought like a banshee too.

On my second trip this weekend. My wife decided to join in on the action. We hit a couple of harder to reach spots in the canals systems, and wound up with some real nice "Mogans". WOW, is all I have to say to some of this seasons biggest Peacock Bass.
Anyways, the fish are chewing pretty good on the smaller baits we were throwing. You got to try to to find the clearer water, and then match the hatch.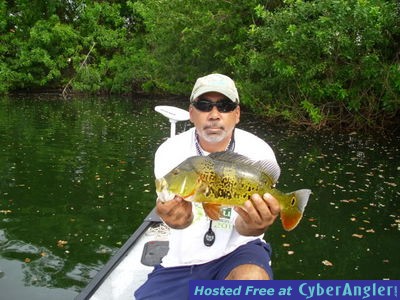 Capt. Tony Fowler (305)775-1136
www.miamibackcountrycharters.com/
More Fishing Reports: