Reef Fishing south of Fowey
Capt. Hector Mesa
September 30, 2009
Miami - Saltwater Fishing Report

We went out Saturday morning with a plan to head south to do some bottom fishing off the reefs south of Fowey light. The thought was to buy some bait from Ashley to save time rather than catching it. When Pedro from Ashley, reports that some Dolphins were being caught in about 1000 feet. Of course; we all turned to each other and said, let's do it. I turned my Bluewater out towards Government Cut and headed straight out east. As we reached about 950 feet, we started see signs of weed patches. Since our original plan was to fish the reefs down south, we started to head in this direction. Staying in this depth, we found an area with large patches and started pitching live baits. Dolphin; one of my team mates screamed. A few minutes later, a couple of dolphins were in the fish box. A few schoolies were caught in between, but were released. We continued on and in search for more dolphins, but after a half hour, we all decided to venture south in quest of our original plan. We arrived at our final destination and anchored up in 70 feet of water. Immediately, the chum bag was deployed and in no time we had Ballyhoo and Speedos feeding from our chum slick. We rigged a rod with a couple of gold hooks and landed some fresh ballyhoo and speedos for bait. Using glass minnows that I brought and all the live bait we had, it ended up being a fun and productive day. We got the 2 dolphins offshore and as for reef fishing; we caught a 4 foot barracuda, 28 yellowtails, 8 cero mackerels, 1 mutton snapper, and 1 grouper. Here are some pictures.
My Cero Mackerel

Luciano's Cero Mackerel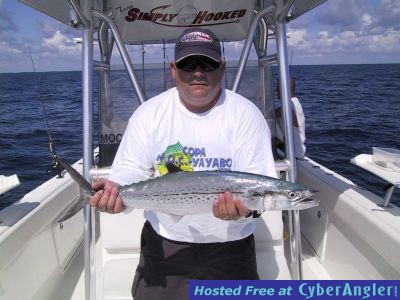 Manny's Grouper

Manny's Mutton Snapper

Have any questions or want to try some reef fishing; give me a call.
Capt. Hector Mesa
305-720-7225
fishing@simplyhookedcharters.com
www.simplyhookedcharters.com
More Fishing Reports: