Sailfish are here!!!
Capt. Hector Mesa
February 11, 2009
Miami - Saltwater Fishing Report

Sailfish season if definitely among us. For the first part of January it was a hit or miss. Some anglers were traveling way north or way south in order to find good current and clean water. With the multiple cold fronts passing through, conditions have been more than favorable. A strong and consistent north current has been generating great action. Some of the reports have been at 150' or as shallow as 90' and producing multiple hookups at times. The favorite bait at best is a Goggle Eye, but large Threadfin Herrings will do great as well.


Don't be surprised and I'm sure you won't be disappointed to catch some tasty and colorful Dolphins as well, while targeting Sailfish.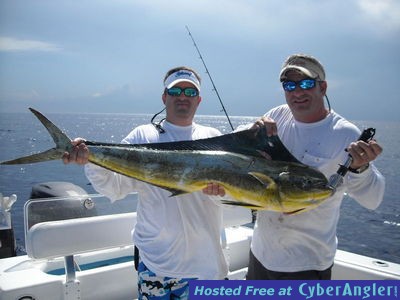 As you drift into the shallower depths, be prepared for the mighty strike of the silvery Kingfish. It wouldn't hurt to tip your leader with some #5 or #6 wire, just in case. Bait has been pretty good inside Government cut by the jetty or further in by the tug boats, but there are those days that they are a little harder to find. Even though you are targeting Sailfish and the bigger herrings is what you want; keep the smaller herrings or pilchards caught as well for they will be very useful if you decide to target Spanish Mackerel.
Get "Simply Hooked" on a great day of fishing, make it fun and let's take kids fishing.
Let's pass it on!
Capt Hector Mesa
www.simplyhookedcharters.com
fishing@simplyhookedcharters.com
305-720-7225
More Fishing Reports: