The Traveling Fisherman
Capt. Bouncer Smith
November 19, 2021
Miami - Saltwater Fishing Report

After my visit to South Carolina, I moved northeast to Morehead City North Carolina. There I caught a beautiful gag grouper on a slow pitch jig. We also caught loads of triggerfish and vermillion snappers. The next day we went offshore fishing and caught numerous mahi, kingfish and barracuda. A nice wahoo and big bonito filled out the day. I fished with Corbett and Ron Jon on the Wasabi. My final day of my fishing week, Corbett took us in the back bay for redfish. We caught several, but the best part was fishing a Rapala surface plug as the sky turn red with the setting sun and catching redfish on my last two cast.
My next fishing adventure was with Adrian and Regina Gray in Melbourne Florida. We fished the Indian river with a variety of artificial baits. Our first catch was a beautiful snook on the same Rapala still rigged on my Penn Fathom low profile plug reel. We caught several snook, lots of trout, a few redfish and my monster catfish.
Old fishermen's reunion and some foul weather kept me off the water for two weeks, but then I hit the ground running.
I joined Richard Stanczyk and @richardstanczyk at Bud and Mary's Marina in Islamorada Florida.
In the late afternoon we snuck out and caught several sharks, a jack and finally the guest of honor, a fantastic bonefish.
The next day it was a chilly but breathtaking run across Florida Bay to the southwest coast of Everglades National Park. There we saw too many exotic birds to count and a crocodile. While we were at it, we caught snook of all sizes, redfish, big jacks, catfish, a Goliath grouper and a tripletail.
You haven't lived if you haven't seen a Florida Keys sunset.
Capt. Bouncer Smith
305-439-2475
http://www.captbouncer.com
http://www.bouncersmithchronicles.com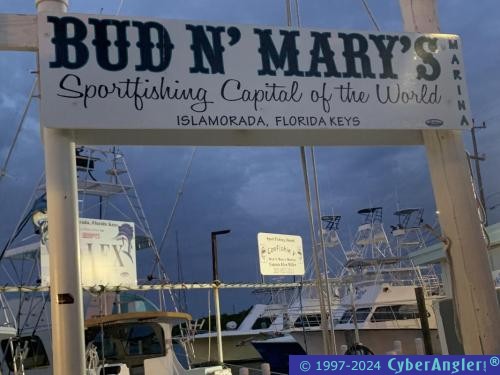 More Fishing Reports: