New Bait taking over Mosquito Lagoon!!!
Capt. Randy Kraft
November 25, 2012
Mosquito Lagoon - Saltwater Fishing Report

This is how it started...For years I have fished Mosquito Lagoon. I have fished with many baits in search of one that stands out, the go to bait! About a month ago I was picking up some live shrimp from the bait store and went in to pay for them by the register and there they where...Grandslam Baits!
I grabbed them up like a snake striking and asked if they had the five inch paddle tail swim bait in another color? White with a chartreuse tail? But they only had the white with pink tails and the ones I bought with the black/clear silver flake swim bait with a chartreuse paddle tail. This is new bait and they just started making them. So I launched the boat knowing that it was not the best fishing conditions but I need to stay on top of my game to be the best at what I do. So I went to the fishing hole and started fishing with the new bait - sight fishing Mosquito Lagoon for Redfish and the fish where cruising the flats. Near the boat I casted to some Redfish and this was not one of the best casts. It landed well behind the fish and by then the wind had blown the boat up on them and as I pulled the bait along almost to the boat. I saw this Redfish turned all the way around and attacked this bait like I haven't seen in a long time...Slam fish on and it was very pissed off that it was fooled...Ha Ha - I yelled!!! The day was awesome! I have taken more clients out using them with great success. These baits are handmade locally in Edgewater and are sold at Native Waters Bait & Tackle... Edgewater, Florida.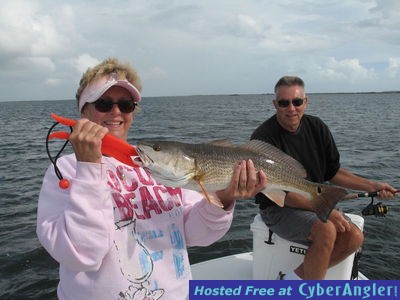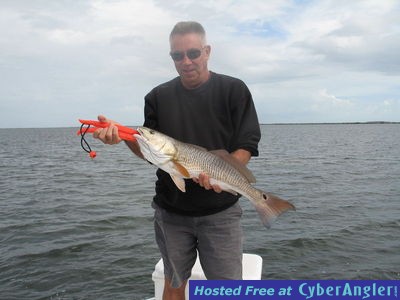 About two weeks ago I was at the bait store again and the guy that makes this bait was in the store and like a freak I ran up to him and asked if he had the color I wanted…white with a chartreuse tail? He said that he would make some up for me. A couple of days went by and he called and said that he had made me some. I picked them up and thanked him. This is my GO TO bait.!!!
Mosquito Lagoon has clear high water levels and floating grass and yes it has been windy but very productive. I have been fishing shallow water near sand bars and islands and have found schools of Redfish and Trout and they love slamming my GO TO Bait...catch'em up!!! Captain Randy Kraft - Tug of War Charters
Target Species:

Refish & Spotted Seatrout
More Fishing Reports: