Early Winter Patterns Arrive To Backcountry And Flats
Capt. Michael Savedow
December 5, 2014
Mosquito Lagoon - Saltwater Fishing Report

Early winter patterns have arrived to Mosquito Lagoon Florida with an early chilly spell in mid November dropping water temperatures into the upper 50's during the cold days, now hovering in the low 60's as air temps are nice and mild with highs some days at 75 to 80'F. The colder water has Redfish starting to school on the flats with winter sight fishing patterns as water gets much clearer as the temp drops. Seatrout are also a winter target species on the lagoon waters, the larger Trout frequent the flats along with Redfish, while most school size Trout are caught along the drop offs edges of holes and sloughs in the backcountry. Jig type artificial lures are good for these deeper water fish, while I use mainly select size live shrimp and small live finger mullet for shallow water Reds and Trout this time of year. Repeat clients from Daytona, mom Kate, dad Fred, and daughter Calle, recently had a great trip with me on the flats, it was a breezy, rainy, chilly morning, but the fish were happy to be biting, we caught 7 Reds up to 29" and 7 Trout, including 5 in the slot, Kate here with her 24" speck as she was the Trout Whisperer this morning........................
Calle had a good hand with Redfish catching a few good ones, here showing off her largest of the trip................
Fred did catch the biggest Red of the morning on his first cast though before letting the ladies take control.............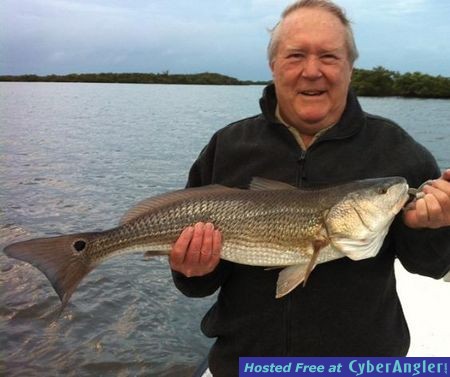 Jean and Jim came on another mixed bag backcountry fishing trip with me, after having a great time last year on a mixed trip with me during their vacation, it was one of the cold mornings driving the fish down into the deep holes, fishing live shrimp, catching school trout, sheepshead, snappers, and the top fish of our trip a beautiful Black Drum caught by Jean................
First time client Nat from Arizona set up a 2 day trip, bringing along dad Roger and his Aunt Vena who is an Edgewater local, first morning was another windy chilly trip on the flats, but we still managed 5 Redfish up to 28" . Second morning they decided to try a mixed bag trip in the Edgewater backcountry, a pretty sunny day with now cold water, fishing live shrimp in the holes and drops, catching a bunch of school Trout, runt size Redfish, and also 8 baby Snook in the mix of different species. Nat's Red on day 1 was the big fish of the trips.........................
Longtime regular local client Donavan from Deland brought his colleague Aubrey along to hunt Redfish on the flats just a few days ago, was a chilly morning so we waited for a 9 AM start to give the fish and fishermen time to warm up a little. Was a great choice as we found a school of Reds at the first spot along a lee side calm shoreline, the fish were cold swimming past the baits on some passes, but eating some shrimp when they felt like it, Aubrey caught a pair of 28"/29" Reds from that school................................
And Donovan caught a few slot size Reds for a total of 7 spot tails for our trip, along with a few fair size Trout blind casting tail hooked shrimp over a little deeper grass flats along the way.......................
Paul from Kentucky called me one morning for a same day short notice trip recently, I was able to meet him at mid day for an afternoon trip hunting Redfish, only catching a couple but he checked off a bucket list item of his first Redfish with a 28"er at our first stop..................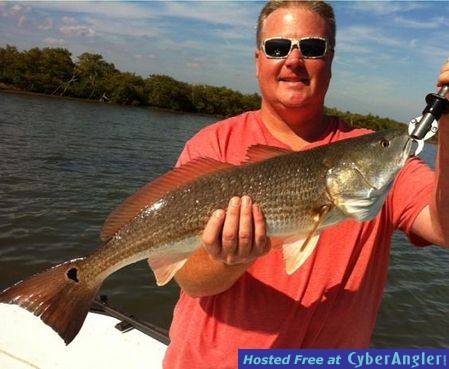 MY BOAT COMFORTABLY ACCOMMODATES 1 TO 4 ANGLERS
CALM WATER INSHORE SALTWATER FISHING – NO SEA SICKNESS
CHILDREN ALWAYS WELCOME – FAIR PRICES
Near Daytona Beach, New Smyrna, and Orlando, East Central Florida. Saltwater inshore backcountry charters, Mosquito Lagoon flats fishing, fly fishing trips by request.
CALL OR TEXT ME ANYTIME 386-689-3781
See my website http://EdgewaterRiverGuide.com
MOSQUITO LAGOON FLATS FISHING AND INDIAN RIVER
BACKCOUNTRY MIXED BAG SALTWATER FISHING TRIPS
Capt. Michael Savedow
Edgewater River Guide, Inc. Since 2003
386-689-3781
email> [email protected]

More Fishing Reports: