Jan 2020 Mosquito Lagoon New Smyrna Backcountry Daytona Beach
Capt. Michael Savedow
January 4, 2020
Mosquito Lagoon - Saltwater Fishing Report

Winter 2020 is here with chilly water, regular "Florida" cold fronts coming through followed by north and west winds lowering our water levels and making the water nice and clear. East Central Florida winter conditions range from mild to chilly, during mild periods fish are more spread out through the backcountry along drop offs, in channels and in holes, a colder period after a strong cold front concentrates the fish more in a tighter schooling pattern. A couple cold water fish we are catching in winter are Bluefish and Sheepshead in addition to all the resident species which we catch year round, including Seatrout, Redfish, Snook, Black Drum, Mangrove Snapper and more. Artificial lures become a better bet with clear water, the fish in the back channels can see it from a longer distance making lures more effective than in our cloudy water of summer. Repeat client Josh from Australia and now Orlando caught this beautiful 30" Redfish on one of his "Aussie" soft plastics off a back country drop off at our first stop this morning ……………..
I even get to catch a fish every now and then, like this pretty Spotted Seatrout I got on a soft plastic lure during one of those chilly Florida winter mornings ……………
Florida Pompano are a less common member of the Atlantic Jack family which happen to be very good eating as well as super hard fighters as are all Jacks, young Matthew from Ohio with a beauty he caught with me recently ……………
Black Drum are a year around staple fish here in the back waters, most are school size ranging from 1 to 5 lbs. Always hard fighters with a spirited battle on light tackle for even the modest sized ones. Jackson from Ohio had a fun time with this one …………………
Little Amelia was out with her family with me on a recent trip, catching many different backcountry species as usual including a few good Pompano …………….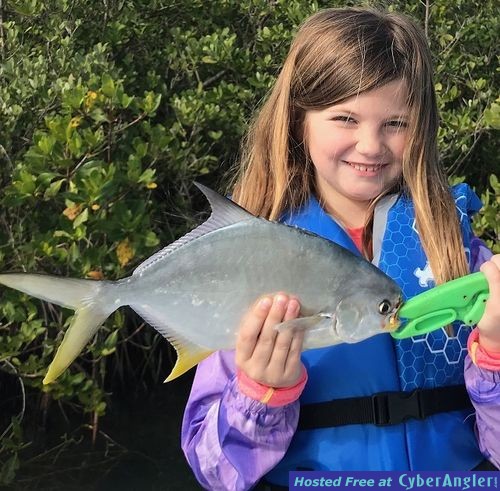 FUN FRIENDLY LIGHT TACKLE FISHING ADVENTURES
Indian River and Mosquito Lagoon Backcountry and Flats Fishing
CHILDREN ALWAYS WELCOME – FAIR PRICES
Near Daytona Beach, New Smyrna Beach, and Orlando, East Central Florida
CALL OR TEXT ME ANYTIME 386-689-3781
See my website https://EdgewaterRiverGuide.com
Capt. Michael Savedow
Edgewater River Guide, Inc. Since 2003
386-689-3781
https://EdgewaterRiverGuide.com
More Fishing Reports: