New Smyrna Daytona Beach Mosquito Lagoon
Capt. Michael Savedow
February 19, 2015
Mosquito Lagoon - Saltwater Fishing Report

Winter fishing patterns finally came to East Central Florida by late December into February 2015 with water temperatures dropping to mid even lower 50's, crystal clear water on the flats of Mosquito Lagoon, beautiful dark green color in the deeper spots, schooling Redfish and Seatrout up shallow, with Sheepshead, Snapper, Seatrout and more in the deep holes. Water levels remain higher than normal for our chilly months after an unusually wet late fall and early winter. On colder days we search the flats for schooling Reds with sight fishing techniques, casting select size live shrimp, a winter time food of choice, live finger mullet will also catch them while holding back off the fish when they become skittish. Craig from Sanford, Florida brought his family to fish the flats with me on a chilly morning last week, targeting bigger fish we only caught a few but they were good ones, Redfish from 28" to 33" at 14 lbs, great battles on the 10 lb test spin tackle. Craig with the smallest 28" spot tail, photo showing the clear cold water in the foreground..................
Son McLean with one of the bigger ones which we caught at midday after a beautiful cold morning sun warmed the water up a degree or two and got the fish feeding better......................
My Indian River backcountry fishing trips are always much fun with winter mixed bag catches targeting Seatrout, Sheepshead, Bluefish, Redfish, and always a few more species. As spring arrives the Jack Crevalle and Ladyfish will arrive back in our waters after wintering in south Florida adding more fun target game fish starting in March. Young Dominick and family had a great time recently backcountry fishing with me.........................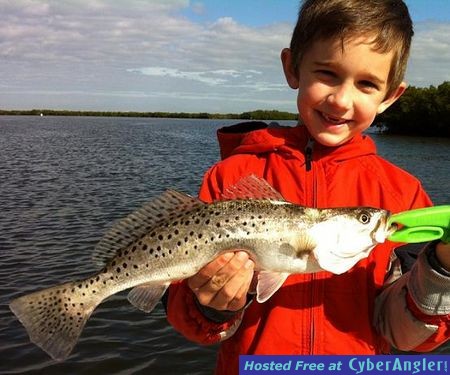 Regular clients Richard and Pat from Virginia and Edgewater went out this week catching 8 Redfish in the shallows, we got to see many more schooling Reds in a few spots that were too cleaver for us to catch, but very cool to see them swimming while sight fishing the winter Mosquito Lagoon flats........................
Rob on a recent trip with a nice flats caught winter Seatrout..............................
Sheepshead are hard fighters, good looking backcountry cold water fish, and fun for kids and adults .....................
Rob and Howard had a great time on their trip with me on another chilly sunny Florida winter day catching a half dozen Reds, these two at the same time with their little double along a pretty tree lined shore...................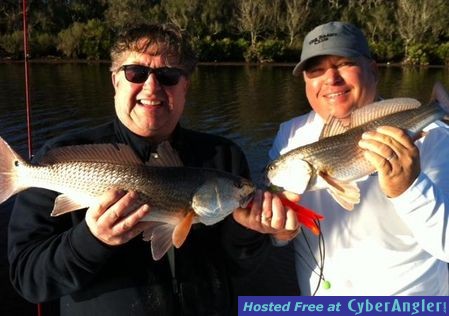 MY WIDE STABLE BOAT COMFORTABLY
ACCOMMODATES 1 TO 4 ANGLERS
CALM WATER INSHORE SALTWATER FISHING – NO SEA SICKNESS
CHILDREN ALWAYS WELCOME – FAIR PRICES
Near Daytona Beach, New Smyrna, and Orlando, East Central Florida. Saltwater inshore backcountry charters, Mosquito Lagoon flats fishing, fly fishing trips by request.
CALL OR TEXT ME ANYTIME 386-689-3781
See my website http://EdgewaterRiverGuide.com
MOSQUITO LAGOON FLATS FISHING AND INDIAN RIVER
BACKCOUNTRY MIXED BAG SALTWATER FISHING TRIPS
Capt. Michael Savedow
Edgewater River Guide, Inc. Since 2003
386-689-3781
email> [email protected]

More Fishing Reports: