NewSmyrnaBch Daytona 2014 Flats Redfish
Capt. Michael Savedow
January 16, 2014
Mosquito Lagoon - Saltwater Fishing Report

A mix of temperatures so far this January 2014 here in East Central Florida, some chilly periods of 30's to 40's at night, then a few days of warm weather with days in the mid 70's to 80 degrees. Water temperatures staying in the mid to upper 50's as of now in mid Jan. Live shrimp and finger mullet are our main baits for shallow water Redfish, jig heads with Gulp shrimp the choice for deeper holes and sloughs off the flats. Schooling fish are the winter norm in the chilly winter water on Mosquito Lagoon. In the backcountry on cold days the winding creeks with deep holes are target areas dropping baits into the pretty deep green colored holes. Early winter a couple weeks ago one of the fun trips I had with regular clients from Deland Florida, Lorin and brother Mark, Chuck and son Charlie caught 6 Redfish up to 28" on the flats and a dozen Trout fishing jigs. Charlie was all smiles after catching his 27" Red...............
And dad Chuck with the big fish of the trip at 28".
Terrance from Orlando brought his girlfriend Kara along with me to achieve a goal of his to "sight fish" a Redfish on the flats, we accomplished the goal early with Terrance casting his shrimp to a pair of Reds swimming right in front of the boat catching this oversize 29" Redfish, also catching 2 more before we were done at 24" and 26".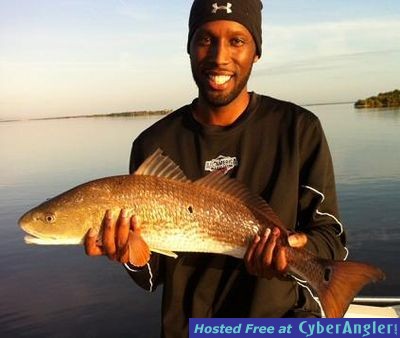 Brock and Lars had a great father /son weekend for New Years, coming up from Delray Beach, Florida to fish Mosquito Lagoon for a couple days, our trip was on a breezy afternoon with tough conditions, but we managed to catch 4 Redfish up to 25" by Lars.....................
And dad Brock caught the other 3 Reds claiming top fisherman spot with a fun victory challenge.
As always my Edgewater backcountry mixed bag fishing trips are fun easy catching with winter fish, Seatrout, school size Redfish, Sheepshead, Bluefish, and Black Drum like this nice one caught by Don who brought his granddaughter Ashlyn out for a fun trip with me last week.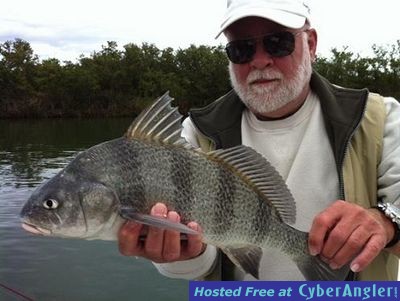 MY BOAT COMFORTABLY ACCOMMODATES 1 TO 4 ANGLERS
Located close to DAYTONA BEACH, NEW SMYRNA BEACH, ORLANDO, KISSIMMEE, DISNEY WORLD, SPACE COAST, COCOA BEACH, EAST CENTRAL FLORIDA. Saltwater Inshore Backcountry Fishing Charters. Feel free to contact me at any time with questions you may have about my fishing charters. Mosquito Lagoon Fishing Guide. Flats Sight Fishing, Inland Fishing, also Eco-Tours, Sightseeing, Bird Watching, Photography Trips. Saltwater Fly Fishing Trips by request.
CALM WATER INSHORE SALTWATER FISHING – NO SEA SICKNESS
CALL ME ANYTIME AT 386-689-3781
CHILDREN ALWAYS WELCOME – FAIR PRICES
Capt. Michael Savedow
Edgewater River Guide, Inc.
386-689-3781
email> [email protected]
Website> http://EdgewaterRiverGuide.com

More Fishing Reports: